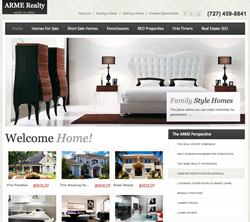 No SEO company will be able to help real estate agencies as well as ARME Realty.com
(PRWEB) August 22, 2013
Zillow.com, a real estate website, announces their acquisition of StreetEasy for $50M in an effort to expand their coverage of the New York market. With Zillow leading the web in terms of real estate online, a Florida company ARME Realty.com looks to follow suit by releasing their latest programs for building the best SEO real estate websites available for real estate professionals in the business today.
According to industry experts, almost 50 percent of the nonmobile traffic looking for real estate websites go to about ten websites only. For a smaller real estate agency, this can be a real problem. Fortunately, there is a way to circumvent this by using the high powered proprietary real estate SEO platform recently released by ARME Realty.com.
"If this number of web surfers looking for real estate are only going to these websites, a smaller, much more local real estate agency may be missing on some of the best customers and sales. This is where ARMERealty.com stands out as one of the best SEO real estate websites offering SEO services today," said Simon Landers, a spokesperson with ARMERealty.com.
ARMERealty.com offers some of the best SEO real estate website tools on the market today. Their sole purpose is working with local real estate agencies and agents. Being highly ranked as possible on a website is one of the only ways a small agency will make real profits with Internet marketing. This starts with a highly targeted website that targets just the kinds of properties brokers want to sell.
"Because ARMERealty.com works with local businesses to build keywords and backlinks, the chances of appearing on the first of the search engine results page is higher with our system. Research says most people never leave the first page of a search engine," said Landers, "so a small real estate agency must have the best SEO real estate website available so they can attract a larger share of the available audience."
No SEO company will be able to help real estate agencies as well as ARMERealty.com. ARMERealty.com works specifically with real estate and nothing else. The best SEO real estate websites in a particular city, zip code or local area will generally show first, so to compete with these guys a company must be using a program for SEO like the program offered by ARME Realty.com.
For more information about ARME Realty.com and their web development toolkit call (727) 459-8841 or visit their website ARME Realty.com today.