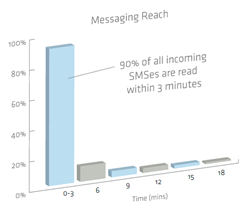 (PRWEB) August 23, 2013
Mobile Marketing is the wave of the future and is an essential part of any business' marketing efforts. Everyone loves their mobile phone. They use it whenever they have down time, while eating, waiting, shopping and even while watching TV. In fact, over 90% of people even sleep within arm's length of their mobile phones! Best of all, people read and respond to mobile communication more than other forms of media.
SMS open rates exceed 99%! If this is amazing, even more shocking is that 90% of all text messages are read within 3 minutes of being received on the mobile phone.
If a business is not advertising on this channel, then it is missing on a great opportunity to reach millions of potential customers to offer its products or services.
Last week, Planesia, Inc, a company that provides internet consulting services, launched Joompia.com, an online platform that makes it easy for a small business owner to implement a mobile marketing campaign, by providing an easy to use interface to configure a mobile keyword, collect opt-in mobile numbers automatically, deliver content to an audience in quick, bite-sized bits. In a single memorable word, a mobile keyword makes it easy for a retailer to establish two-way communication for high-impact messages and offers to subscribers. Deliver product information, promotions, giveaways, or surveys. Plus, grow a subscriber database in no time.
Joompia.com not only provides the platform for mobile marketing campaigns, it also offers tips and guidance on how to use the system, and the DO's and DON'T's of mobile marketing.
Joompia's platform also allows for the creation of QR Codes: a two dimensional barcode matrix with embedded information. Use Joompia to create a QR Code and link it to a URL or a keyword, or specify an action to be taken when the QR Code is scanned by a mobile device. Use Joompia's platform to create a QR Code and include it on all business brochures, then ask customers to scan it to collect opt-in mobile numbers, or open the company's web page when scanned. QR Codes are a fun and easy way for customers to receive information, deals, and create brand awareness.
Subscribing to Joompia's service online (http://www.joompia.com) and creating mobile marketing campaigns is easy; in fact it can be completed in minutes; the control panel is straight forward and easy to use. Once the customer signs up, Joompia provides a Mobile Marketing guide to get started, and offers some best practices and tips that should assist in implementing a mobile campaign.
As an introductory offer, all subscriptions to the 500 SMS messages package before September 15, 2013 will receive a $20 discount for the first month. This means, the customer pays $15 instead of $35 for the first month of the 500 SMS msgs package. This represents $.03/message, the lowest price that can be found today for this type of service.
Note: Joompia.com complies with all advertising guidelines outlined by and in accordance with the CTIA and Mobile Marketing Association. The company provides a clear policy prohibiting SPAM and unsolicited email.