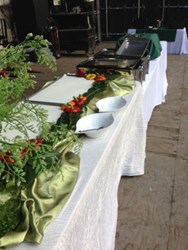 Hello Rodney! Once again, you drove this one out of the park. Awesome food!
Toronto, Ontario Canada (PRWEB) August 27, 2013
With changing leaves comes a stunning array of flavours, and Rodney Kaufman, CEO and Executive Chef of Toronto's Impeccable Taste Catering, unites them to create refined catering menus that clients are sure to fall for.
"Entertaining in autumn is an excellent opportunity to have one last outdoor hurrah before the snow falls," says Kaufman. "Our goal is to provide only the freshest local ingredients, particularly at this time of year." With these elements as the base, creating unique and memorable appetizers, main courses, and desserts for any autumn party is a truly fruitful undertaking.
To complement a flavourful catering menu, Impeccable Taste draws on the colours of the season to craft beautiful décor that will make any party one to remember. Working closely with clients, the catering team develops and implements a spectacular theme for each event. The result is a dazzling display of centerpieces, table runners, flowers and finishing touches that bring the catered event to life.
Fresh from the kitchen and into the boardroom, here are some of Chef Kaufman's failsafe entertaining tips for fall:

Choose a theme that will capture the mood of the party. It doesn't have to be over-the-top and can be as simple as a beautiful colour that will be peppered throughout the decor. Fall provides a rich tapestry of hues, so let the imagination run wild.
Serve a seasonal drink. This is one of the highlights of any party - a fun, creative cocktail that represents the season. For fall, this can include a hot apple cider or a chai tea mixed with liqueur. Remember to have mocktail options available for those who opt to not imbibe.
Pepper the party with seasonal, hearty snacks and appetizers. Think an array of hearty cheeses (Brie, Camembert, blue) served with rustic bread, dried fruit and nuts and bite sized pumpkin pie tarts.
No fall party is complete without a sampling of apples, preferably from the local farmers market. What better way to satisfy the guests' sweet tooth than to send them off with a homemade caramel apple? Local, of course.
When planning a year-end corporate event, personal bash, or even a small office meeting, Impeccable Taste can cater to every need. Bring an autumn event idea to life with alluring catering menus and décor from Chef Kaufman and the team at Impeccable Taste Catering.
Whether in the boardroom or off-site, Impeccable Taste's team of industry experts is equipped to facilitate breakfasts, lunches and dinner meeting spreads. From convenient disposable trays for internal affairs to full china and glass service for special occasions, Impeccable Taste's business catering model integrates seamlessly into its clients' corporate culture.
Say no to the ordinary. Be impeccable. For more information on the possibilities for excellence at the next catering event in Toronto, visit http://www.itcatering.ca.
Impeccable Taste Catering consistently delivers quality food that looks as good as it tastes. As far as catering services in Toronto, service, quality and presentation, like the name suggests, is impeccable, and each event is custom-tailored to suit the unique needs of each customer. Impeccable Taste Catering works with private individuals, companies and corporations in Toronto and the wider Greater Toronto Area markets. Services include expert event planning and catering for casual lunches, seminars, conferences, product launches, release parties, corporate affairs and weddings, among other social events. Born out of the philosophy that exceptional food must not only be meticulously prepared, but also artfully presented, our service offerings include colourful, eclectic and progressive menu options. Visit itcatering.ca for more details.