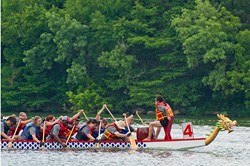 Top Boating Communities in North Carolina
New Bern, North Carolina (PRWEB) August 22, 2013
The waters are always fine, and life is good at River Dunes NC this year. One of the top boating communities in North Carolina is excited to celebrate lots of upcoming events. Whether visiting the marina by boat, spending a quiet weekend in a harborside guest cottage, or looking for a custom waterfront home, River Dunes, an award winning North Carolina marina community is a must-see.
Grace Harbor is the focal point of the River Dunes NC boating community. Residents and their guests have unlimited opportunities for water oriented adventures in and around Grace Harbor. The world-class five star marina offers a wide array of amenities for all boaters including private steam showers, laundry facilities, wi-fi on the docks, high speed Valvtech Marine fuel, 8 ft. MLW depth, simple access from the ICW at MM 173, and much more. Grace Harbor's ideal location on Pamlico Sound is convenient for day or overnight trips to the Outer Banks, New Bern, and the beaches of the Crystal Coast.
Residents of River Dunes and guests always enjoy and participate in special events held throughout the year in the protected waters of the marina. Recently, 24 local teams participated in the 4th Annual Oriental Dragon Boat Festival and Races held at the River Dunes. The twenty man teams practiced with their highly decorated flat water racing canoes. Hundreds of spectators came out to enjoy the spectacle and cheer on their favorite teams. The two-day event was hosted by the Oriental community and included local non-profit vendors, team parades, entertainment and special Chinese fireworks.
Other year round activities are planned for River Dunes NC residents and guests. Labor Day Weekend event is around the corner with the River Dunes Cup Croquet Tournament, swimming, boating and a seafood buffet at the Harbor Club. Soon, the fall boaters will arrive and the autumn season will kick into full swing! In September, River Dunes will be a halfway lunch and rest stop for the MS Bike Ride with residents volunteering as hosts; and in October, the community and marina will be in a booth at the Annapolis Powerboat and Sailboat Shows with information and give-aways.
Only five miles away, the village of Oriental also maintains a full calendar of social, cultural and outdoor events. Residents of River Dunes can join the local walking or a bike club with their friends or families. On Saturdays, the Oriental Farmer's Market is open from 8 a.m. to 11 a.m. The Lower Neuse Angler's Club meets on the second Tuesday of every month, and the Pamlico Music Society brings singer Kathy Mattea to the Oriental's Old Theater on September 20th for those interested in shaking up a Friday night! Opportunities abound in this coastal community for a life as fast or slow paced as you wish.
River Dunes is a beautiful waterfront canvas just waiting for you and your family to step in and enjoy the simple coastal lifestyle.
About Real Estate Scorecard
Real Estate Scorecard writes unbiased real estate reviews providing in-depth information about popular gated communities in Florida, Georgia, North Carolina, South Carolina and Tennessee, all in an effort to help people discover where to retire in the Southeast.
Website: http://realestatescorecard.com