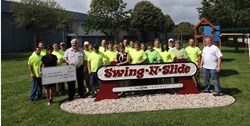 We're so grateful Swing-N-Slide chose Make-A-Wish Wisconsin to benefit from its charity auction, and we're absolutely thrilled with the success they achieved!
Janesville, WI (PRWEB) August 24, 2013
Swing-N-Slide, a PlayCore company and America's first do-it-yourself wooden playset manufacturer, strives to bring play and happiness to all children. The Janesville based manufacturing facility worked directly with Make-A-Wish Wisconsin to auction backyard wooden playsets and playhouses to benefit the wishes of two special local children in need of a wish come true.
Over 40 Swing-N-Slide employees participated in the auction on Saturday, July 27th as part of PlayCore's Day of Caring. The Day of Caring event promotes the values of the company across all brands and divisions by helping build communities through play. The day also builds teamwork and employee morale through hands-on community involvement. In total, 17 play sets and 3 playhouses were sold to raise $9,470 for the cause. Vice President of Finance and Controller of Swing-N-Slide Gary Messinger said, "I am overwhelmed by the employee and local involvement in efforts to raise money for this cause. We are so proud to be a part of the Janesville community and to have participated in giving wishes to deserving children." Messinger added, "Swing-N-Slide also sends our special thanks to Bob Johnson, Auctioneer, for donating his time to this very special event."
The partnership was a huge success according to Make-A-Wish Wisconsin Madison Regional Director Nicole Williams. "We're so grateful Swing-N-Slide chose Make-A-Wish Wisconsin to benefit from its charity auction, and we're absolutely thrilled with the success they achieved! The wishes of two special, deserving children in the greater Janesville/Rock County region will be sponsored through Swing-N-Slide's generosity. We look forward to sharing more details about these magical wishes in the months ahead, and we also look forward to partnering with Swing-N-Slide again in the future. Thank you to all the wonderful employees who helped make wishes come true through their efforts!" exclaimed Williams.
About Swing-N-Slide
Since 1985, Swing-N-Slide has provided safe, high-quality wooden play sets, and is one of the leading playground equipment companies in the United States. With a commitment to safety and quality, Swing-N-Slide designs, manufactures and distributes consistently innovative do-it-yourself playground kits and play set accessories to enhance the at-home assembly process and overall safety of their play systems, achieving their vision of bringing fun, compliant and reliable products into the home.
About PlayCore
PlayCore helps build stronger communities around the world by advancing play through research, education, and partnerships. Our company infuses this learning into its complete family of brands. We combine best-in-class planning and education programs with the most comprehensive array of recreation products available to create play solutions that match the unique needs of each community we serve.
About Make-A-Wish
Make-A-Wish Wisconsin grants the wishes of children ages 2 1/2 to 18 with life-threatening medical conditions to enrich the human experience with hope, strength and joy. Wishes are a special type of medicine that give children a break from doctors' visits, hospital stays and treatments and provide a ray of hope during a difficult time. More than 4,800 families across the state have experienced the healing power of a wish since 1984, and 325 wishes were granted by the Wisconsin Chapter last year alone. For more information or to learn how you can make a difference, please call the Madison Regional Office for Make-A-Wish Wisconsin at 608-252-4321 or visit http://www.wisconsin.wish.org.
#########
For More Information Contact:
Georgia W. Tippens
Product Manager, Swing-N-Slide
423.648.5570
gtippens(at)playcorecom