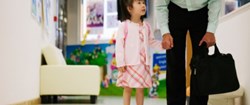 Boulder, CO (PRWEB) August 22, 2013
A survey conducted by FlexJobs, the leading site for finding a work/life balance job, found that fall is not just "back to school" time, but it's also a big "back to work" time in terms of both job-seeking and for work productivity. As kids head to class, 33% of parents say they will ramp up their job search. Workplace flexibility is highly desired for these parents, with 82% saying that having school age children affects their desire for a more flexible job.
Workers in general also take the "back to school" sentiment and transfer it to refocusing on their jobs as the majority of survey respondents chose fall as their most productive time of year.
Summer was the leading season for people to be less productive, with one in four people admitting that they slack off.
For parents and non-parents alike, the appeal of a telecommuting or flexible schedule job is increased by the substantial time savings in eliminating or reducing their commute. One in three people have had a daily commute of 2 hours or more in their careers. Of those, 8% have had commutes of 3-4 hours, and 6% have had commutes of 4 or more hours every day. That's one in every fifty people who have had to spend 20 hours a week commuting.
Another notable area of time savings is the amount of time spent getting dressed and ready for work. While 23% of women and 45% of men take less than 30 minutes to get ready, 67% of women and 54% of men take longer than 30 minutes, and one in ten women take over an hour.
Costs associated with work attire would also be greatly eliminated if there was no need to head to the office. For women, 1 in 4 people can save over $1000 a year, with 5% of those saving over $5000. As for men, 15% of men say they would save over $1000 a year, with 6% of those saving over $5000.
More results of the survey can be viewed here: http://www.flexjobs.com/blog/post/flexjobs-survey-back-to-school-also-means-back-to-work/.
About FlexJobs
FlexJobs is the leading online service for hand-screened and professional flexible, part-time, telecommuting, and freelance job listings. FlexJobs gives job seekers an ad-free way to find legitimate jobs quickly, easily, and safely. A proud member of the Better Business Bureau, FlexJobs skilled research team provides quality job leads in over 50 career categories, ranging from entry-level to executive, freelance to full-time. FlexJobs is a green, carbon-balanced company which is leading the way to the future of work by promoting telecommuting and flexible jobs that allow people to enjoy work and life in environmentally sustainable ways.
To find out more about FlexJobs, visit http://www.FlexJobs.com.