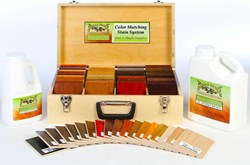 We're proud to unveil our revolutionary, fast-drying waterbased pro floor stain. The only waterbased floor stain on the market.
East Troy, WI (PRWEB) August 24, 2013
General Finishes, a recognized leader in the water-borne finishes industry, launched their revolutionary Water Based Pro Wood Floor Stain System, challenging the traditional use of oil-based stains this past June.

Stains dry for recoating in 3-5 hours;
No water popping necessary;
18 intermixable base colors create an unlimited color pallet of deep, rich colors;
Easy to plan exits & runs, as you can walk back over the stain in 10 minutes;
Automotive pigmentation system offers superior UV stability & brilliant color;
No strong solvent vapors, no combustion concerns, easy water clean-up;
VOC compliant throughout; U.S. Sq. ft. coverage is 30% greater than oil stains.
The General Finishes Floor System consists of Pro Floor Stain, Pro Sealer, Pro Image (pre cross-linked Sealer), and Pro Shield (post catalyzed top coat).
Read Here for Application Tips: http://www.generalfinishes.com/waterbase-floor-stains-topcoats .
THE GENERAL FINISHES STORY: General Finishes, founded in 1928, has been a pioneer of water base finishes, devoted to engineering the best water-based stains and topcoats available for the past 25 years. "We simply know water chemistry better than anyone else," says owner George Adams.
General Finishes started in the consumer market and moved on to the cabinet and mill work industry—recognized as the finest in those markets. Now the company has turned its attention to wood flooring and developed a safe, effective staining system that produces deep, vibrant colors.
For additional information or color samples of General Finishes's Revolutionary New Water Based Pro Wood Floor Stain System, or to find out where the next application demonstration will be, contact George Adams, General Finishes President, at 800-783-6050 or visit http://www.generalfinishes.com .
###