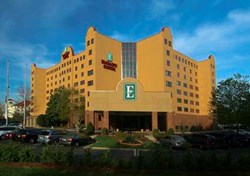 "We want to create ample parking opportunities at the best price possible."
Charlotte, NC (PRWEB) August 28, 2013
Greenbee Parking, a dynamic young growing airport parking solutions firm, has just announced a whole new bag of cheapies for their clients who use the busy Charlotte (CLT) airport on a regular basis. As a part of these fabulous deals, travelers will have multiple parking options to choose from and all at very cheap CLT airport parking rates. This means that they will no longer have to incur heavy parking expenses in their travel budgets whenever they are flying in and out of the city. While the deals promise to bring in significant savings for frequent fliers, there are fabulous offers for short term and even one time bookings. Even if one is booking at the last minute there will be no huge fee to put a major dent in the budget. Now there is even more reason to visit this city which is the perfect embodiment of southern charm, thanks to Greenbee Parking.
"We want to create ample parking opportunities at the best price possible," said Christine Cooper – Marketing Coordinator, Greenbee Parking. "We want to reach out to a larger customer segment and let them know how much they can save by using our services. We hope that the new cheap CLT airport parking rates will convince them of this fact and also how cheaper fees can still ensure quality services and ease of use."
Charlotte/Douglas International Airport Parking Information
Also known as the Queen City, Charlotte epitomizes the true southern charm of the Americas. At the same time it provides one of the most intrinsically mixed cultures that bind the north with the south. It is home to major MNCs and is considered a major financial center after New York which contributes to a healthy employment percentage. Despite all these factors, Charlotte is still considered to be one of the most affordable places to live in making it all the more popular. Added to these is the bonus of sheer natural beauty that abounds the place. Naturally, with all these factors combining travel in and out of the city is high which means that the Charlotte (CLT) airport remains busy throughout the year and in fact ranked as the 6th busiest airport in the world in 2010. The downside of these figures is that there is a tremendous demand for airport parking space. Despite sincere efforts matching the rising demands with the existing infrastructure has been difficult leading to major passenger dissatisfaction. Fortunately with service providers like Greenbee Parking there is now definite hope for improvement in the situation. Now travelers can choose exactly the kind of parking space they prefer, opt for more secure locations and even park a little distance away from the airport, all at very cheap CLT airport parking rates.
The Greenbee Airport Parking Solution
Greenbeeparking.com is the connection between consumers and parking vacancies in close proximity to major airports and seaports. The parking spaces are very affordable because the company has negotiated discounted rates with major hotel chains for the parking spaces that are not currently occupied. Here's how it works.
Greenbee Parking puts the available inventory of parking spaces on their website to be reserved by business and leisure travelers looking for cheap airport parking. This alternative method for finding parking equates to significant savings for the traveler.
About Greenbee Parking
Greenbee Parking is the nation's most innovative long term parking company, with a new way of making long term parking affordable. The company is rapidly adding new airports to its network. Check us out today to save on your spot!