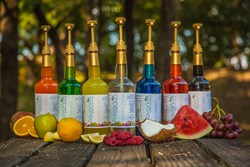 FlavorVIA has zero glycemic index which makes it diabetic friendly and comes in over 30 flavors for all to enjoy!
(PRWEB) August 24, 2013
FlavorVIA is one of the leading diabetic drink options on the market. Check out our site to purchase our sugar-free, ZERO calorie and ZERO carbohydrate drink enhancer. http://flavorvia.com/
FlavorVIA is a healthy water enhancer that can make wonderful teas, juice flavors, slushies and cocktail flavorings that are sugar-free, caffeine free, non-carbonated and packed with vitamins. It has a sugar substitute that has ZERO calories and ZERO carbs. This makes it a healthy alternative to most commonly available sugar sweetened and flavored drinks on the market.
FlavorVIA is concentrated enhancer you add to water or your favorite drink. FlavorVIA does not need to be refrigerated. Simply add 1/2 ounce of one of our many stevia sweetened flavors to 8 ounces of water, stir, pour over ice, and enjoy a refreshing fruit flavored drink. Each bottle makes 68 servings,making the cost below 20 cents a serving. Compared to vitamin water and other per-bottled beverages, enjoy savings of over $100 per bottle.
This product is a health conscious alternative drink for diabetics and a superb sugar-free beverage for kids. Actually it is a healthy alternative for anyone looking to eliminate sugar by switching to Stevia sweetened beverages. This is how FlavorVIA was born. Think of it as water…just better!
FlavorVIA is sweetened with stevia, a diabetic friendly alternative to sugar. Stevia is a plant that comes from the subtropical and tropical regions of western North Africa and South America. Stevia extracts can be up to 300 times the sweetness of sugar; however it has a zero glycemic index, which makes it diabetic friendly.
FlavorVIA uses Stevia exclusively to sweeten its extensive line of flavored water enhancers. Stevia flavored drinks are becoming more and more popular as people are becoming more knowledgeable on health choices and are opting for sugar-free choices. Not only is Stevia good for diabetics but it is also a great sugar substitute for kids, seniors, athletes and those who are want a better option for their flavored beverages.
Order FlavorVIA in over 36 exciting flavors to meet the needs for your diabetic drink.
Now endorsed by http://1800medigap.com
1800MEDIGAP encourages its customers to try flavorVIA and tell a friend about your experience. Many current customers have given it rave reviews, and 1800MEDIGAP wants to share this opportunity with the rest its retirement aged community, dedicated to leading healthier lives. 1800MEDIGAP has even featured FlavorVIA in its website's online gallery.
FlavorVIA is also pleased to announce that this product is now open to distributorships all over the United States. FlavorVIA distributors can look forward to ongoing sales and continued growth for once your market is introduced to the product. See website for more information about distribution opportunities.