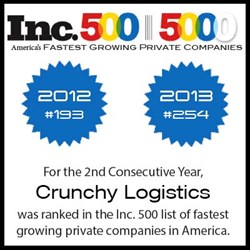 This ranking is not only a celebration our past years, but also insight into the upcoming successes for Crunchy Logistics in the years to come.
Orlando, FL (PRWEB) August 23, 2013
Inc. magazine ranked Crunchy Logistics No. 254 in its 32nd annual Inc. 500|5000, an exclusive ranking of the nation's fastest-growing private companies. This is the second year in a row that Crunchy Logistics has made the Inc. 500 list, an extremely rare professional achievement for any company. Out of the 7 million companies considered for placement on the Inc. 500|5000, Crunchy Logistics ranked No. 23 in IT Services and ranked No. 16 out of the top 100 companies from Florida. Crunchy Logistics continues to hold its place as a powerful company in the tech industry, and a dominant leader in the technology sector of Florida.
Crunchy Logistics has been growing since the company's establishment in 2008. Crunchy specializes in connecting companies to customers through innovative platforms such as interactive media, digital signage, audio/ visual environments, and other creative projects. In the past year, Crunchy has seen rapid growth in sales for its groundbreaking product Padzilla, an accessory that turns your tablet into fully functioning, giant iPad accessory that works on multiple operating systems. Padzilla has traveled the globe and can now be seen at various company lobbies, conference rooms, showcases, events, and even weddings.
"It is an honor to be placed on the Inc. 500 for a second year in a row," says Crunchy Logistics CEO and Founder Neil Dufva. "The past year has been a whirlwind of changes and endeavors but the Crunchy team has always risen to the challenge. This ranking is not only a celebration of our past years, but also insight into the upcoming successes for Crunchy Logistics in the years to come."
The minimum growth rate for this year's Inc. 500 list was 918 percent growth, up 148 percentage points from last year's cut. The median three-year growth was a mind-boggling 2,900 percent, more than twice the amount from 2012, making this year's list even more competitive than the last. Complete results of the Inc. 500|5000, including company profiles and an interactive database that can be sorted by industry, region, and other criteria, can be found at http://www.inc.com/500.
CONTACT:
Adi Khanna, Director of Sales
855-527-8624 ext. 206
PR(at)Crunchy(dot)co
About Crunchy Logistics
Crunchy Logistics is a pioneering technology firm based in Orlando, Florida. Crunchy has a unique line of products and services that allows companies to make a large impact on customers. From the larger than life Padzilla digital display to the interactive MIKASA media platform, Crunchy technology connects businesses to customers on a whole new level of engagement. Crunchy Logistics is unique because of its diverse team of experts in various fields, including software development, engineering, digital media, interactive technology and audio/visual design.
Crunchy services include all-in-one solutions to diverse technology needs, including system creation, development, management, and 24/7 technical support. Crunchy's goal is to give organizations perfectly tailored systems that are customized to fit their needs. Crunchy works one-on-one with clients to create permanent benefits for their organizations.
Learn more about Crunchy Logistics.
Inc. 500|5000 Methodology
The 2013 Inc. 500|5000 is ranked according to percentage revenue growth when comparing 2008 to 2013. To qualify, companies must have been founded and generating revenue by March 31, 2008. They had to be U.S.-based, privately held, for profit, and independent—not subsidiaries or divisions of other companies—as of December 31, 2011. (Since then, a number of companies on the list have gone public or been acquired.) The minimum revenue required for 2008 is $100,000; the minimum for 2013 is $2 million. As always, Inc. reserves the right to decline applicants for subjective reasons. Companies on the Inc. 500 are featured in Inc.'s September issue. They represent the top tier of the Inc. 5000, which can be found at http://www.inc.com/500.