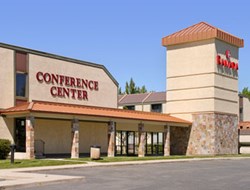 "Our focus is to come up with more and more innovative ways to serve our clients."
Salt Lake City, UT (PRWEB) August 29, 2013
Greenbee Parking, a rapidly rising airport parking solutions company, has announced that Ramada Worldwide will be their preferred hotel partner in Salt Lake City. This strategic partnership will now allow Greenbee customers to choose a secure parking spot for their vehicles at a short distance away from the hustle and bustle of the busy Salt Lake City (SLC) airport. It is especially a boon for those frequent travelers who detest the airport traffic, who like to reach there in leisure with lots of time in hand and not worry about getting a good parking space either. They can get all this and more by parking at the Ramada parking lot and that too without paying for the steep SLC Airport parking rates. Availing the affordable space does not mean that one has to book a room at this full-service hotel. All they have to do is show their booking receipt from Greenbee Parking and they are free to park their cars right away. Once they are done, they can simply hop onto the shuttle which runs every 15 minutes and relax on their way to the airport and reach there with plenty of time in hand.
"Our focus is to come up with more and more innovative ways to serve our clients," said Christine Cooper – Marketing Coordinator, Greenbee Parking. "Our partnership with Ramada Worldwide will ensure that travelers coming in or flying out from Salt Lake City can avail the best possible parking spots at any hour they choose and won't have to pay through their nose with the usual steep SLC Airport parking rates."
Salt Lake City International Airport Parking Information
Salt Lake City International Airport ranks as one of the leading airports in the world, in terms of passenger footfalls, cargo and freight movement, air traffic as well as for their impeccable service. It connects with over 90 cities worldwide and witnesses around 650 arrivals and departures on a daily basis. It is one of the major financial hubs of the country and therefore sees a high volume of business travelers on an annual basis. The stunning natural vistas that Utah is so famous for naturally draws in hordes of tourist to the state as well, further adding to the passenger footfalls at the airport. As one of the busiest airports it sees a huge amount of ground traffic as well. This in turn leads to heavy demands for airport parking space, the lack of which has been a constant bone of contention between authorities and passengers. Now with service providers like Greenbee Parking there is a solution in the form of ample parking space at affordable SLC Airport parking rates, a win-win situation for all.
The Greenbee Airport Parking Solution
Greenbeeparking.com is the connection between consumers and parking vacancies in close proximity to major airports and seaports. The parking spaces are very affordable because the company has negotiated discounted rates with major hotel chains for the parking spaces that are not currently occupied. Here's how it works.
Greenbee Parking puts the available inventory of parking spaces on their website to be reserved by business and leisure travelers looking for cheap airport parking. This alternative method for finding parking equates to significant savings for the traveler. These savings are sometimes as much as 75% less than parking at the airport or seaport.
About Greenbee Parking
Greenbee Parking is the nation's most innovative long term parking company, with a new way of making long term parking affordable. The company is rapidly adding new airports to its network. Check us out now to start saving on your parking spot.