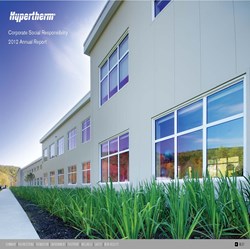 "At Hypertherm, financial success goes hand in hand with our commitment to CSR. Making money and doing good things in the world are not mutually exclusive. We believe we can enhance business profitability while creating value for society."
Hanover, NH (PRWEB) August 23, 2013
Hypertherm, a New Hampshire based manufacturer of advanced cutting systems, is out with a new Corporate Social Responsibility report that outlines the company's work in support of the community and environment. It is available for download now at http://www.hypertherm.com/csr/.
The report reveals a record number of nearly 100 organizations received support from its HOPE (Hypertherm Owner's Philanthropic Endeavors) Foundation in 2012. In addition, nearly 80 percent of Associates, another record, used some of all of their company sponsored community service team to volunteer. These Associates are estimated to have spent 14,500 hours helping nonprofit organizations around the globe.
Hypertherm also reports significant strides toward its 2020 environmental goals. In 2012, companywide programs helped divert more than 130,000 pounds of waste from landfills and saved 1.3 million kilowatt hours of electricity. The single largest carbon savings came from transitioning 15 percent of outbound freight from air to ocean transport and the use of Green-e Certified renewable energy credits for 100 percent of its energy needs.
"At Hypertherm, financial success goes hand in hand with our commitment to CSR. Making money and doing good things in the world are not mutually exclusive. We believe we can enhance business profitability while creating value for society," said Barbara Couch, Hypertherm's vice-president of corporate social responsibility.
Hypertherm designs and manufactures advanced cutting products for use in a variety of industries such as shipbuilding, manufacturing, and automotive repair. Its product line includes handheld and mechanized plasma systems and consumables, as well as fiber laser and now waterjet products, in addition to CNC motion and height controls and CAM cutting software. Hypertherm systems are trusted for performance and reliability that result in increased productivity and profitability for hundreds of thousands of businesses. The New Hampshire based company's reputation for cutting innovation dates back more than 40 years, to 1968, with Hypertherm's invention of water injection plasma cutting. The associate owned company, consistently named one of the best places to work in America, has more than 1,300 associates along with operations and partner representation worldwide.