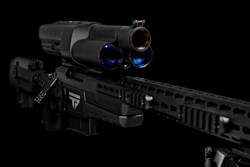 In the future, TrackingPoint will be remembered as the proverbial game changer.
Austin, TX (PRWEB) August 23, 2013
Austin, TX based applied technology startup TrackingPoint™ was featured on its second magazine cover earlier this summer when the XS1 .338 Lapua Magnum Smart Rifle™ appeared on the debut issue of Trigger Magazine. The feature story "TrackingPoint's Precision Guided Rifle System Shoots Better Than You" ran alongside an interview with Craig Harrison, who holds the record for the longest confirmed sniper kill, as well as features on Remington's M2010 and Sako's Finnbear.
Trigger is a new periodical from Intermedia Outdoors, the publisher of the legendary Guns & Ammo magazine. The magazine's official description is "TRIGGER insightfully explores gun culture wherever guns are found. Stunning imagery and storytelling puts guns and people who use them at the forefront of each article. Contributors will break down barriers of social ignorance through education and place the lifestyle of gun ownership in context of the larger world we live. We seek a diverse audience interested in adventure, learning why people shoot, and what inspires shooters and collectors."
The TrackingPoint article discusses the harsh realities involved with long range shooting, even for trained military snipers. According to the article, existing military sniper systems offer less than 5% chance of striking a target with the first round at 1000 yards. TrackingPoint increases first shot probability by to greater than 50% to an untrained novice out to 1200 yards, and as Trigger says, "That's pretty close to perfect." Skilled shooters can expect even better results.
The article's conclusion with respect to the TrackingPoint system: "Any shooter equipped with the TrackingPoint rifle system is capable of delivering accurate fire at extended ranges with little training or ammo consumption even on targets that are moving. The shooter can quickly engage multiple stationary or moving targets at unknown distances without manipulating conventional scope turrets or memorizing holdovers. TrackingPoint increases the first-round-hit-probability, while decreasing time usually needed to become proficient."
TrackingPoint Smart Rifles are available through an application process on tracking-point.com, in .338 Lapua Magnum and .300 Winchester Magnum models, with a starting price of $22,500.