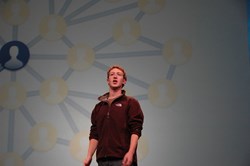 By providing real value, by becoming a hero, a business owner can make a significantly positive impact in people's lives – and that's not something easily forgotten.
(PRWEB) August 23, 2013
In a recently published article titled, "Could Mark Zuckerberg's New 'Big Idea' Be A Losing Proposition?" Predictable Profits CEO and founder Charles Gaudet addresses the massive scope of the Facebook creator's newest project: a plan to bring affordable Internet access to roughly 5 billion people worldwide.
Gaudet recognizes this goal as a massive undertaking, and because it will be so difficult to achieve (and could potentially affect so many lives in a positive way), the marketing expert sees Zuckerberg's goal as an act of heroism.
"Bringing Internet access to third world countries is about something far bigger than Mark Zuckerberg or Facebook," Gaudet says, "it's about bringing people a better life, it's about providing a much-needed service where it simply isn't available… It's about changing the world."
He notes that these types of major, human interest-oriented projects secure business leaders as driving forces for good, in turn solidifying the trust-based relationships they have with their customers.
"When business leaders make the extra effort to bring true value to the lives of their customers (and people in general), the relationship goes beyond the standard roles of buyer and supplier…" he continues, "By providing real value, by becoming a hero, a business owner can make a significantly positive impact in people's lives – and that's not something easily forgotten."
Gaudet challenges business leaders to embrace heroic acts, to look for opportunities, even at a local level, to use their influence for social good, and reminds them that this will have an overwhelmingly strong effect on sales and customer loyalty as well.
The Predictable Profits blog is a valuable resource for entrepreneurs and business owners at every level, providing regularly updated advice and strategies for growing businesses, increasing customer loyalty, and increasing profits through long-term customer relationships.
ABOUT CHARLES GAUDET:
Charles Gaudet is widely recognized as a leading small business expert for entrepreneurs who aren't willing to settle for mediocre profits, and want to out-think, out-market, and out-earn their competition. His business advice has been featured on Inc., Fox Business, Forbes, and many other media channels. On his website, PredictableProfits.com, he's endorsed by a range of clients, reporting that Charlie's been the driving force behind marketing strategies earning as much as 6-figures in as little as just 24 hours, and anywhere from 30% to over 100% growth in under a year. He is the founder of Predictable Profits and the Publisher of The Predictable Profits Insiders Club. Follow Gaudet on Twitter at http://www.Twitter.com/CharlesGaudet .
ABOUT PREDICTABLE PROFITS:
Predictable Profits is a leading small business marketing company, specializing in finding overlooked marketing opportunities commonly found in most small-to-medium sized businesses for generating quick, dependable, and predictable profits without having to spend any more money in advertising.
For more information on how to grow your business, visit http://www.PredictableProfits.com and take the FREE Profit Profile Business Assessment to receive an instant snapshot of the opportunities and strengths existing in your business today!