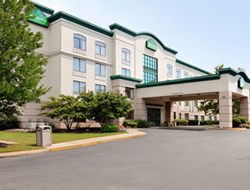 Nashville, TN (PRWEB) August 30, 2013
Greenbee Parking, a fast growing airport parking solutions company, has just announced brand new deals for their customers using the busy Nashville (BNA) airport regularly. Availing these deals would mean multiple benefits for travelers who will now get to book secure parking spots without paying outrageous parking fees. This will definitely lead to significant savings even without the BNA airport parking coupons which, till date have been the only hope for travelers to beat the steep fees. Nashville attracts as many leisure travelers each year as it does with business travelers which lead to quite a heavy volume of air traffic and passenger footfalls at the airport. It is the heart of the American music industry and as a result the hot seat for artists, industry players and fans all year round. The heavy volume of air and ground traffic has led to rising needs for parking and expansion in the recent past. Despite good intentions the authorities have been hard pressed to find solutions leading to rising traveler complaints. Thankfully, with service providers like Greenbee Parking there is definite hope on the horizon.
"We want our customers to expect and enjoy a positive experience each time," said Christine Cooper – Marketing Coordinator, Greenbee Parking. "To ensure that this positive experience is repeated each time we try to come up with more and more innovative parking options that will ease all parking woes. We want to do this without costing a bundle therefore clients don't have to waste their precious time looking for BNA airport parking coupons to save on their hard –earned dollars,"
Nashville International Airport Parking Information
Nashville International Airport is the 34th busiest airport in the US and connects with over a hundred destinations, internationally as well as within the country. It caters to both business and leisure travelers to and from Nashville and its surrounding areas. These include the larger regions of southern Kentucky, northern Alabama along with 79 counties in central Tennessee. This large volume in turns leads to rather heavy ground traffic. Despite several public transport options airport parking space is in high demand and with space at a premium the rates have only become dearer. However, with the new deals and discounts offered by service providers like Greenbee Parking travelers using the Nashville (BNA) airport can hope to get the parking space of their choice, a secure location for both long term and short term parking and at very affordable rates. They no longer have to look for BNA airport parking coupons to save on parking expenses anymore.
The Greenbee Airport Parking Solution
Greenbee Parking has effectively bridged the gap between parking problems and solutions at both airports and major seaports. They have tied up with major hotels for available parking spaces at discounted rates which they offer their customers across the nation who can now save up to almost 75% of their parking costs.
All they need to do is visit Greenbee Parking, select their city or airport of choice, choose the parking spot and pay through a secured payment gateway. There is a comprehensive list of airports and parking spots to choose from. Greenbee's wide network makes it possible for every customer who logs in to find a solution.
About Greenbee Parking
Greenbee Parking is the nation's most innovative long term parking company, with a new way of making long term parking affordable. The company is rapidly adding new airports to its network. Book with us today to save big on airport parking.