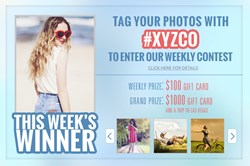 Effective social strategies trigger self-expression by encouraging consumers to engage onsite in order to see a real return on investment. – Al Lalani, Head of Client Success
Los Angeles, CA (PRWEB) August 26, 2013
Social Annex announced today that Social Curation will be added to their existing suite of over 20 onsite social tools. Social Curation gives online retailers the ability to offer their customers a way to upload and present user generated content via personal photos of products pulled directly from Instagram, Facebook, and Flickr.
"In order to monetize Instagram and acquire ROI, retailers and marketers must refocus their attention towards onsite social interaction, rather than immeasurable off-site interaction. Effective social strategies trigger self-expression by encouraging consumers to engage onsite in order to see a real return on investment." – Al Lalani, Head of Client Success
Built primarily for the home page, Social Curation can live anywhere onsite and can be viewed as a separate gallery page for a more immersive Pinterest like experience. By implementing Social Curation, retailers are able to showcase user generated photos on homepages, individual product pages, and during the checkout process with the intention of increasing onsite conversion rates.
Social Annex has found that retailers implementing onsite social tools into their site experience have an average monthly reach of over 350,000 visitors. Additionally, shoppers that engage with their tools are 3 to 7 times more likely to convert.
Onsite social interaction further engages consumers by giving them the opportunity to create content that not only fits into their world, but it encompasses a brand as well. Furthermore, onsite social engagement increases customer retention by transforming customers into brand advocates through an immersive online experience.
About Social Annex:
Social Annex is dedicated to helping eCommerce websites and retailers leverage social media resulting in boosted sales, while developing brand awareness and building customer relationships. By integrating customer loyalty programs with eCommerce websites, Social Annex helps retailers incentivize, track and increase sales conversion, all while making the online shopping experience increasingly enjoyable for customers. Social Annex makes eCommerce sites social by powering tools like Gamification, Customer Loyalty, Social Login, and incentive based sharing.
Social Annex works with some of the largest names in online retail, including a large list from the Internet Retailer Top 500 by creating a Social Commerce Platform that integrates directly into online retail sites adding a Social Layer. The company is supported by some of the largest names in Los Angeles- including the founders/executives behind Shopzilla, PriceGrabber, LegalZoom, Atari, and more.
NOTE TO EDITORS: For additional information, please visit Social Annex's press page: (http://www.socialannex.com/public/index/pressresources).