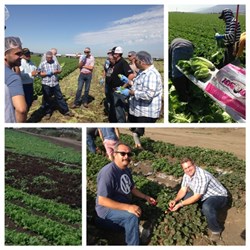 Daylight Foods is always searching for ways to better connect their customers with the food they purchase.
Milpitas, CA (PRWEB) August 22, 2013
Daylight Foods is always searching for ways to better connect their customers with the food they purchase. They want people to realize that their produce does not come off of a shelf, but rather that much time and effort is taken to carefully grow each item. With this in mind, Daylight Foods invited chefs on a field tour in Salinas and Watsonville on Monday, August 19th.
The idea was to give chefs an understanding of three different operations; a large family farm, a small organic farm and large corporate farm. All three types are important to our food supply, but all three operate differently.
"I want to introduce you to the different types of producers and products you work with on a daily basis," explained Daylight Foods president Chris Vlahopouliotis.
Understanding how these contrast, but also how these three work together, was interesting and educational for the group.
The tour began at D'Arrigo Bros. Co. in Salinas. They are a family farm famous for their Andy Boy label and have been in production for three generations. During their field tour, the group was treated to viewing romaine being picked, cleaned and bagged, a tour of the seed laboratory and greenhouses.
Next was Lakeside Organic Gardens in Watsonville, the largest organic farm in California that specializes in over 45 commodities. This family owned farm has been in production since the 1800's and converted to 100% organic in 1996. The group toured a field rich with biodiversity as multiple varieties of leafy greens were planted side by side. Here it was explained how organic farmers use natural remedies, such as introducing beneficial insects, to combat crop problems.
Last the group visited Driscoll's in Watsonville. Driscoll's is the world leading producer of berries; they grow strawberries, raspberries, blackberries and blueberries both conventionally and organically. They are family owned, but operate in multiple countries at a grand scale. During the tour the group was taken through both raspberry and strawberry fields and educated about the correct growing specifications.
What was echoed through each grower, was how the farms in the area work together to insure rotation of vegetables. Farmers are the number one advocates for sustainability and insuring their land is well taken care of. All of the growers are on the tour spoke out about this.
"D'Arrigo Bros. Co., of California is dedicated to championing solutions for tomorrow's safe, accessible, and nutritious food through its sustainability efforts so we can continue the grow, pack and ship the best quality product that we started back with in 1927," explained Claudia Pizarro-Villalobos, D'Arrigo Bros. Co. sales specialist.
Driscoll's quality assurance team discussed and clarified their practices, "This right now is strawberry, but next year this field might be romaine, every year we rotate to eliminate pathogens and mites."
In fact, Lakeside Organic Gardens works with Driscoll's organic division rotating land between the two farms to insure the land is not depleted of any minerals and is sustainable for future generations.
Daylight Foods is happy with the success of this field tour and looks forward to hosting more in the future.
About Daylight Foods
Daylight Foods purchases direct from the most reputable growers and shippers in the industry. Their direct purchasing and high quality standards enables them to continually pass on value to their customers' operations; supplying fresher, higher yielding product. Daylight Foods takes a special interest in local growers and family farms, as well as in "green" technology, to support their local communities and sustainability for future generations.