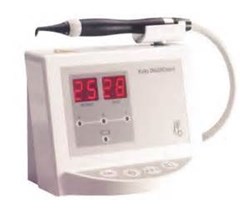 Mesa, AZ (PRWEB) August 24, 2013
Aesthetic Family Dentistry in Mesa has gone high-tech when it comes to detecting tooth decay.
Using the DIAGNOdent Laser Caries Detection Aid, Drs. Wallin, Greding and staff can uncover evidence of caries (or cavities) in their patients that are not yet visible to even the most trained eye. Using a laser probe, the DIAGNOdent technology measures the laser fluorescence within the tooth structure, as opposed to diagnosing decay on the surface, as is the case with most traditional detection methods. Although this procedure is beneficial for a dentist, Gilbert, AZ families will benefit as well.
"The DIAGNOdent technology enables us to uncover evidence of decay in the early stages which allows us to target and treat the cavity and save the tooth structure," explains Dr. Wallin. "Early detection stops further damage."
The new technology has been proven to be over 90% accurate. Precise results are given without x-ray exposure – a welcoming change to some patients, especially children.
To schedule a check-up using this new technology, contact Aesthetic Family Dentistry at 480-218-8800 or visit http://www.myazsmile.com for more information on this and other services offered.
About Aesthetic Family Dental Care
With an inviting office, friendly staff, experienced doctors, and state-of-the-art tools and equipment, Aesthetic Family Dental Care is easily identified as one of the best dental offices in Mesa. Both Dr. Wallin and Dr. Greding have degrees from reputable dental schools and have been honored as Top Dentists by Phoenix Magazine four years in a row. With services ranging from innovative one-hour crowns and cosmetic dentistry to dentures and typical dental procedures, Aesthetic Family Dental Care is who to trust when you need dental care services.