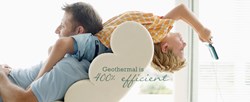 Nearly 40% of total U.S. energy consumption in 2012 was consumed in residential and commercial buildings, or about 40 quadrillion British thermal units. (source: EIA)
Campbell, CA (PRWEB) August 26, 2013
Much of California has a virtually untapped energy source underfoot. The use of geothermal for residential and commercial heating and air conditioning as well as other commercial applications such as heating or preheating water for commercial use or providing temperature control for commercial equipment and data center equipment. (Video on how geothermal works.)
If our collective goals are energy dependence, reduced emissions there is a need to focus on the buildings in the US, where by the way, 40% of the country's energy usage is spent on HVAC and water heating. In reflection, most cars do not use one bit of energy for a majority of the day, while the buildings continuously consume energy all day and all night. The focus on electric and energy efficient cars appears misplaced, the focus needs to be on renewable and energy efficient HVAC and water heating. Tackling the building's energy consumption can make a tangible difference on energy dependence and the US carbon footprint; best of all, it's renewable.
Green Equipment Options, Inc. and ClimateMaster, Inc. are partnering to offer assistance to contractors, architects, HVAC contractors, commercial building owners and home owners take advantage of this resource.
With over 50 years of industry experience, ClimateMaster, Inc. is the world's largest and most progressive manufacturer of American Made residential geothermal heating and cooling systems. ClimateMaster is dedicated to developing and delivering innovative and energy efficient HVAC technologies and products that create tangible value for homeowners. ClimateMaster products minimize the environmental impact of residential living and enhance the comfort and curb appeal of homes across the country. ClimateMaster produces ENERGY STAR® geothermal heat pumps as well as a wide variety of associated equipment and parts from our state-of-the-art manufacturing facility in Oklahoma City. Our national network of independent geothermal HVAC dealers sell our warrantied high efficiency heating and cooling systems, and provide geothermal homeowners with ongoing service, parts and customer support. Green Equipment Options, Inc. Distributor of energy efficient HVAC equipment shares ClimateMaster's passion for reduced environmental impact, and assisting customers to reduce their energy costs.
ClimateMaster, Inc. is a subsidiary of LSB Industries, Inc. (NYSE: LXU), a global engineering, manufacturing, sales and service company specializing in environmental and climate control systems, products and lifecycle support. The corporation's business units focus on residential, commercial, industrial and institutional markets. They produce, distribute and support a broad range of sophisticated HVAC systems and solutions including hydronic fan coils; water source and geothermal heat pumps; heating and cooling heat pumps; geothermal heating, cooling and air conditioning systems; and large custom air handling systems. LSB Industries is also headquartered in Oklahoma City, Oklahoma.
Green Equipment Options, Inc. is a wholesale distributor of energy efficient and renewable heating, air conditioning, refrigeration and other applicable products. Our goal is to get many of these innovative products in the hands of building, construction and retrofit professional's hands. Partners Kent Penning, Susan Nichol and John Townsend share a passion to reduce carbon emissions, reduce energy costs and dependence on foreign oil.
If you are an HVAC contractor in Northern California or you want to be more involved in renewable heating and cooling, or perhaps you are in need of a wholesale water sourced heat pump(s) or other geothermal equipment or parts, contact Green Equipment Options for advice and ordering. Green Equipment Options can be reached at 408.412.8500 or contact: info(at)greenequipmentoptions(dot)com.