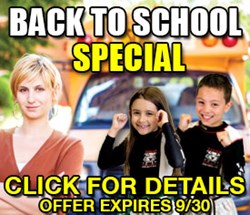 Our kids martial arts program builds confident kids. Confident kids are happy kids!
New York, New Jersey, Connecticut, Pennsylvania, Florida (PRWEB) August 24, 2013
With the onset of the new school year, parents seek activities for their kids. Tiger Schulmann's martial arts for children combines a skill set which improves mental, physical, and emotional health in children. Children experience a step by step process where their abilities improve, and eventually, they learn they can count on themselves to achieve goals, overcome obstacles and develop a deep sense of confidence which other activities cannot provide.
The current Back To School campaign emphasizes the need for children to develop an edge in order to compete in an increasingly complex world.
"Thousands of children attend our martial arts classes every day. My most rewarding experiences have been to watch the most timid, unconfident children get that look on their face where they feel pride and confidence for overcoming an obstacle they believed was insurmountable only weeks before. They come in meek and unsure and before you know it, they are go-getters who set their mind to achieve. They will rule their own lives instead of allowing life to rule them," says, Nicholas Gravina, a long-time karate and martial arts expert from the Syosset Tiger Schulmann's location.
The Back To School Martial Arts campaign will launch on August 19, 2013 and expire on September 30.
Contact Information:
Alon Feder - Director of Marketing
Tiger Schulmann's Mixed Martial Arts
485 Boulevard | Elmwood Park, NJ 07407
(201) 797-2777 x 624
http://www.tsk.com