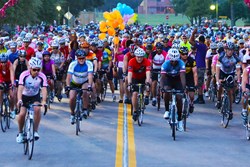 Using, The Arts, Pink Ribbons Project promotes breast health, saves lives and improves the quality of life for those touched by breast cancer.
Houston, Texas (PRWEB) August 23, 2013
Tour de Pink
Sunday, September 15
Prairie View A&M University
100 University Dr., Prairie View, TX 77446
6 to 7 am – Late Registration
7 am – Opening Ceremony and Staggered Starts for All Routes
9 am – Ride Festival begins
Online registration is $30 and will close September 8, 2013
Late registration is $40 at Packet Pick Up
Event day registration is $50 at PVAMU.

Each registrant is required to raise a minimum $125 in pledges. Prizes will be given to those who fundraise at the $250, $500, $750, $1,000, $1,500, $2,500 and $5,000 levels! Fundraising will continue until one month after the ride on October 15th, 2013.
Not only does Tour de Pink offers routes for all biking levels: 12, 23, 34, 47, 63, 80 and 100 miles, but this year also will offer Mini Riders, a short ½ mile ride for all budding young cyclists! So, let your little ones experience a biking event on their tricycles, trikes or bikes with training wheels, but at a pace just for their little legs. Can't join us on the 15th? Consider participating as a Pink Spin Rider and register for Tour de Pink, fundraise for the cause and reap all the same benefits as the cyclists! Participate by simply keeping track of your spins on your own between September 15 and October 15. You also can participate with one of our sponsoring gyms, including: The Houstonian, The Houston City Club, The Next Level Fitness, Define (five locations), Pure Body Studio, Snap Fitness of Sienna Plantation, Timberline Fitness Studio, University of Houston Downtown and ConcocoPhillips Fitness Center (for its employees).
To register or for more information: 713.524.PINK (7465) or visit: http://www.pinkribbons.org or http://www.tourdepink.org.
Pink Pigeons
Friday, September 27, 7:30 am to 1 pm
Westside Sporting Grounds
10120 Pattison Road; Katy, TX
The clay-shooting event, sponsored by AkerSolutions, offers sponsorship opportunities ranging from $15,000 for a Platinum sponsorship to $7,500 for a Bronze sponsorship. Other possible sponsorship opportunities are available. Cost to participate is $750 per team or $150 per single shooter (singles will be teamed). Limited to 40 teams total with five per team.
Over the last three years, Pink Pigeons has become the most successful fundraising event for Pink Ribbons Project, bringing in $160,000 and growing. It is the creation of event chairs: Nathan Bane, Clint Midgett and Rachel Midgett, in honor of Rachel and her fight against breast cancer, to offer a creative, male-oriented event to help raise funds to support Pink Ribbons Project activities. Sadly, Rachel recently lost her fight against breast cancer, making Pink Pigeons more important than ever before.
Rachel Midgett was well aware of the sacrifices made when participating in clinical trials as she herself participated in breast cancer clinical trials at MD Anderson. As part of her experience, she met many families who traveled to Houston and stayed in hotels anywhere from one week to three months at a time, running up costs that for some are just unaffordable. Rachel wasted no time feeling sorry for herself, instead she lived every day of her final years making life better for other breast cancer survivors. She generously created Suites of Hope, offering families a condo to live in free of charge while participating in clinical trials at MD Anderson. Pink Ribbons Project is the first funder of this project and the participants are selected by MD Anderson based on financial need. The first condo opened in 2012 and has had a wait list since opening. Rachel's hope was to have many more available to participants in the coming years. She constantly thought of ways to make life easier and to speed up research for those impacted. Her generous spirit and unending energy is an inspiration to all! To make a donation or for more information, visit: http://www.suitesofhope.org.
While breast cancer no longer is a mystery these days, there are many different forms it takes and some are more aggressive than others. It is essential to stress the need for early detection to successfully fight the disease. Both men and women alike need to know their bodies and address any changes that could possibly indicate an issue. This event is an opportunity for Pink Ribbons Project to stress the issue that no one is immune to the disease, and when detected early, the chance of survival is that much greater!
Pink Ribbons Project promotes breast health, saves lives and improves the quality of life for those touched by breast cancer by. The organization helps underserved women receive breast cancer screening and follow-up care through services at clinics and mobile mammography units throughout the Greater Houston area. To become a Pink Partner and for more information about Pink Ribbons Project's many programs, including Tour de Pink and Pink Pigeons, call: 713.524.PINK (7465) or visit: http://www.pinkribbons.org.