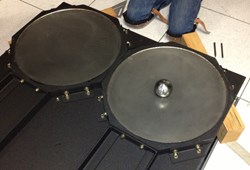 Los Gatos, CA (PRWEB) August 29, 2013
WorkSafe™ Technologies is the only manufacturer of seismic protection products to offer professional installation. They take the same high-quality approach to their installation services as they do their products. When you entrust WorkSafe™ with your valuable equipment, every effort and precaution is taken to ensure a safe and smooth product installation. The new 24" dish/cone ISO-Base™ Seismic Isolation Platform is a perfect example of this.
WorkSafe's Pacific NW distributor recently installed the first 24" dish/cone ISO-Base™ in a 5th floor data center. Due to weight and location issues, the customer decided that base isolation would be the best mitigation solution to those risks. The new 24" dish allows for greater travel and can handle more weight then the standard 8" dish.
The ISO-Base™ offers customers a unique and alternative solution to the common practice of bolting the data cabinets to the floor. Bolting a data cabinet to the floor is a great way to protect your employee's safety during an earthquake, yet it does little to nothing for the protection of the internal components. This is where the ISO-Base™ products step in.
ISO-Base™ Seismic Isolation Platforms work by using the principle of base isolation to decouple seismic shock and vibration from equipment through the use of our patented Ball-N-Cone™ Technology. This dramatically reduces if not eliminates the path on which damaging shock waves and vibrations can travel.
During the 2011 Tohoku earthquake in Japan, there were over 30,000 data cabinets being protected by the ISO-Base™. After the initial 9.0 earthquake, three 7.0 aftershocks and hundreds of other aftershocks, something great was discovered. Not one cabinet protected by the ISO-Base™ fell over or got damaged. Even more impressive is as soon as power was restored to the island, the protected cabinets were up and running. This in turn allowed those companies to immediately help the community recover from this devastating event.
The ISO-Base™ Seismic Isolation Platforms are changing the way people think about seismic mitigation in data centers. Contact your local authorized WorkSafe™ representative for more details on how your company can better protect it's employees and mission critical equipment.