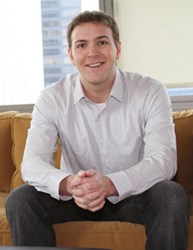 When you don't have a multi-million-dollar marketing budget, and you know your product works, you'll do whatever it takes to spread the word and save people from sub-par test prep.
New York, New York (PRWEB) August 23, 2013
In an attempt to gain broader awareness of his new SAT program, renowned SAT tutor Anthony-James Green is giving 100 students $1 access to his Green SAT System from now until September 1st. The program, which has an average student score improvement of over 385 points (higher than any other SAT course in the industry), has slowly been gaining awareness, but Green wants to accelerate the process as quickly as possible. While the program usually costs $249, Green is running this promotion to allow a large group of students to use the product simultaneously and track results.
Students and parents interested in trying Green's program can sign up for their $1 accounts while they're still available via the following URL:
https://greensatsystem.com/100-student-sat-system-score-improvement-challenge/
"I already knew that the system worked when I applied it with my one-on-one students," says Green of his program. "I've been developing it for years, and constantly experimenting on my strategies, tactics, and lesson order with over 345 students. However, to see the program get such incredible results without my direct involvement is even more satisfying. My hourly rate is prohibitive for most families, but anyone can afford the Green SAT System, and it certainly scales more effectively than I do."
Green's SAT System, formerly known as the Teach Yourself The SAT program, has been making waves for its simplicity and ruthless efficacy. The program, which is hosted entirely online, puts students through a rigorous, step-by-step process which forces students to systematically identify and eliminate their individual weaknesses, resulting in enormous score improvements in an extremely limited period of time.
While many SAT prep options, such as SAT classroom courses and one-on-one tutoring, are extremely expensive, they're also infamously ineffective. Green's course was designed as an antidote to the current options that most parents are faced with when preparing their children for their SATs.
"This system is an exact replica of the program I put my own students on," says Green. "It's fast-paced, tough, and effective. I don't apply one-size-fits-all lessons to my students, because they don't work. Classroom courses are a waste of time and money, and most tutors don't spend enough time perfecting and improving their teaching methodologies - they're very good at taking the SAT themselves, but this skill doesn't translate to their students. My system forces students to take learning into their own hands. It's not a "magic solution" - it takes a serious commitment of time and effort. But if students follow my instructions, they get insanely high score improvements. At the end of the day, that's all I care about."
Students and parents looking to learn more about the system itself can visit the Green SAT System website via the following URL:
http://www.GreenSATsystem.com/.
Those interested in trying the $1 trial are encouraged to sign up as quickly as possible, as very few spots are remaining. Once the 100 $1 trials accounts are used up, Green will discontinue the promotion and work with these 100 students to track their scores.
Anthony-James Green is known as one of the most effective SAT tutors in the world. He has tutored more than 345 students one-on-one, trained over 100 tutors to use his methods, and has run multiple test prep firms and curriculum companies. His personal website can be found at the following URL:
http://www.NewYorksBestSATtutor.com/.
Green lives between New York City and Los Angeles, where he works full time when not honing and developing his SAT system.
###