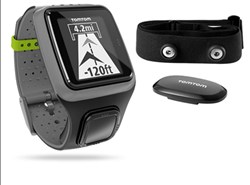 It's light, super easy to use, acquires satellites lightening fast, like under 10 seconds, and has the thinnest profile of any GPS running watch we have tested
Bozeman, MT (PRWEB) August 24, 2013
TomTom Runner GPS watch is new, offering surprisingly easy-to-use simplicity and the fastest satellite acquisition of any running watch on the market says Heart Rate Watch Company.
"It's light, super easy to use, acquires satellites lightening fast, like under 10 seconds, and has the thinnest profile of any GPS running watch we have tested", says Rusty Squire, President of the Heart Rate Watch Company. He adds, "This is going to be a real big hit with a lot of women that loathe the oversized guy GPS units".
With or Without Heart Rate
The TomTom Runners GPS watch comes in a version without heart rate strap for $169 and this version can be used to get pacing data, maps and distance information. "It is compatible with a heart rate strap so you can add one at a later date", says Squire.
The heart rate version of the Runners GPS watch sells for $219.99 according to Squire.
Excellent Screen Resolution and Vibration Alerts
"I love the vibration alerts because they are easier to detect than an audible alert when you have environmental noise", says Squire. He adds, "I was also very happy with the screen resolution even in the brightest of lighting conditions".
"We liked the fact that you could choose to have both audible and vibration alerts and the single button that acts like a joystick to navigate the watch is a real pleasure", says Squire. He adds, "I wish other manufacturers would think more along these lines".
RUN and Bike - Try the Multisport
TomTom Multisport GPS watch costs about $40 more but adds cycling and swimming features to the mix. "Adding cycling, which displays speed in miles per hour, allows you to do virtually any outdoor sport", says Squire.
Great Choice for Women
"TomTom GPS watches offer the thinnest profile and lightest weight so they will have some true fans in the legions of women that participate in endurance sports", says Squire. He adds, "I just wish they made the Dark Pink in both Runners and Multisport with heart rate but we'll probably make up our own bundles to satisfy women who want those capabilities".
Expert Advice
"You can call the Heart Rate Watch Company at 866-586-7129 to get the expert advice you deserve from people who really use the product and specialize in just fitness", says Squire. He adds, "We go an inch wide and a mile deep which is the opposite of chain stores which usually go an inch deep and a mile wide".