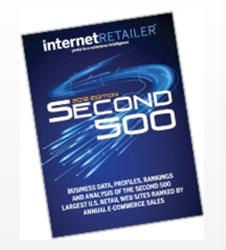 We are extremely thrilled to recognize that eight of our merchants made it into the guide this year, and that many of them have been in the Top 1000 for several years running
Rochester, NY (PRWEB) August 27, 2013
UniteU continues to catapult their clients into the upper echelon of North American retailers. The announcement that several of their clients have made it into Internet Retailer's Second 500 guide comes after a strong year of steady growth by many customers. Clients accepted into the guide include; Edwin Watts Golf, Pharmaca Integrative Pharmacy, Boot Bay, Massey's Professional Outfitters, Red Oxx Manufacturing, Al's Sporting Goods and Jewelry Warehouse.
Internet Retailer analyzes website traffic, sales figures, conversion rates, average order values and overall yearly growth to determine acceptance and placement into the guide. "We are extremely thrilled to recognize that eight of our merchants made it into the guide this year, and that many of them have been in the Top 1000 for several years running," says Soumen Das, UniteU CEO. "It is not unusual for retailers to experience dramatic growth after moving to UniteU. Enterprise retailers on our cloud commerce platform are able to adapt quickly and deploy changes that make their businesses more competitive within the continually evolving digital commerce market."
Jewelry Warehouse Inc. is newly listed in the guide this year and credits their growth to a shift in focus on digital commerce initiatives. "Jewelry Warehouse is proud to be a part of the Internet Retailer Second 500 for the first time," says Chris Boomhower, Director of eCommerce for Jewelry Warehouse. The Jewelry Warehouse family of sites includes Garnet and Black Traditions and Tiger Paw Traditions, representing the University of South Carolina and Clemson University respectively, as well as Palmetto Traditions, a fashion-focused brand.
"Our company offers a unique shopping experience for its customers and prides itself on offering hybrid-responsive full and mobile sites for shoppers on its set of sister sites. Traditionally a brick-and-mortar retailer, Jewelry Warehouse Inc. has shifted its focus to eCommerce and is working to push its brand to new heights over the next 18 months," says Boomhower.
UniteU is continually innovating and developing technology to create a seamless omni-channel shopping experiences for consumers. UniteU Commerce™ works as a single unifying hub, connecting and aggregating data sources then leveraging that data across channels and devices. This allows companies to respond more rapidly to new opportunities and in-turn provide engaging shopping experiences for their consumers. The most recent application of this strategy has been the development of a cloud-connected mobile-point-of-sale solution, which is backed by the robust UniteU Commerce platform. The new application solidifies UniteU as a provider for omni-channel retailers, allowing them to deploy a more seamless experience to their shoppers in-store or on-the-go.
UniteU clients have also excelled in the mobile space, largely due to the impressive speed and responsiveness of their mobile commerce technology, resulting in high conversion rates. "Our approach to mobile shopping is unique. Consumers expect an extremely fast and intuitive browsing experience," said Das. "To provide this we categorize devices into groups, with desktop and tablet devices being one consideration and mobile 3G/4G devices as another category. We then use a combination of client-side and server-side technologies to send only the responsive elements that are applicable to an individual user's device. This reduces the amount of data transmitted and provides lightning-fast speed and performance.
"Our company continues to grow by adding new customers to our platform and by focusing on expanding our existing clients' businesses—growing their online revenues and developing technology that helps them expand their reach. New technology such as our in-store solutions and mobile initiatives help them to do this," he said. "It is rewarding to see these brands have such marked success."
About UniteU Technologies: UniteU creates commerce technology for a new generation of opportunity. It is the industry leader at removing the complexity, risk and costs associated with other enterprise e-commerce platforms so companies can focus on initiatives that drive growth across all digital, mobile and physical channels. UniteU offers a suite of enterprise e-commerce and in-store solutions including uMobile POS™ and UniteU Commerce™, an on-demand digital commerce platform that embodies more than a decade of multichannel insights and high-volume experience. Superior technology and performance have resulted in an impressive client list that includes Pharmaca, Edwin Watts Golf, The Miami Heat, In-N-Out Burger, Shoe Station and City Sports.