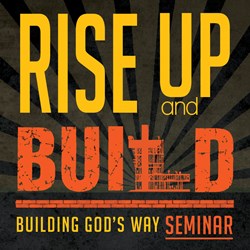 And because the gracious hand of my God was upon me, the king granted my requests... And they said, "Let us rise up and build". - Nehemiah 2:8,18
San Marcos, CA (PRWEB) August 26, 2013
Pastor Chico Goff of Mission Hills Church will be the keynote speaker at the "Rise Up & Build" Seminar, which will be hosted at his church on Tuesday, Sept 10. Chico Goff has led Mission Hills Church through a tremendous period of growth, taking the church from a Bible study of 30 people in 1999 to a church of more than 1,300 members today. Pastor Goff will share his experience in leading his congregation through the construction of their new 54,000 SF building and 32 acre campus development in 2007 and the impact that the new building has had on his ministry.
The seminar, entitled "Rise Up & Build", will feature expert speakers in the areas of church design, construction, remodeling, funding and growth. Based on the story of Nehemiah in the Old Testament, the seminar will focus on helping churches and Christian schools step out in faith to build or retool facilities that are more culturally relevant and allow for expanded ministry opportunities in their community.
Church architects and builders will share about a unique, Biblical approach to designing and building ministry facilities that can save 20-30% compared to typical construction methods. Attendees will learn how churches and Christian schools across the country are turning their construction sites into mission fields through a program called "The Ministry of Construction".
Attendees will also hear about innovative master planning strategies to leverage both land and buildings to generate revenue and sustain ministry growth through creative lease agreements, community partnerships and private equity investment.
Pastor funding consultants will share about a strategy called Hearing from God, a refreshing concept that leverages a total stewardship approach to raising capital.
Building God's Way will be hosting seminars in 12 other cities this fall. For more information or to register, call 866-249-8484 or visit the BGW seminar web page.
About Building God's Way (BGW) - BGW has become a recognized national leader in ministry design and construction through its extensive experience in working exclusively with churches, Christian schools and colleges. Since 1998, BGW has worked with more than 600 ministries nationwide and has developed an unparalleled network of kingdom building services that includes church design, church building, Christian school and college architecture, church growth coaching, vision casting, capital fundraising, non-profit development, financial solutions, worship technology, mobile solutions and more. For more information about BGW, call 800-552-7137 or visit the web site at http://www.bgwservices.com.