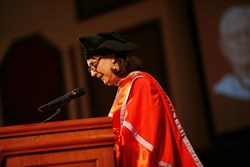 Minneapolis, MN (PRWEB) August 23, 2013
Mimi Haddad, president of Christians for Biblical Equality (CBE), is speaking at a conference at St. Paul's University, Limuru, Kenya that is being held in honor of the newly completed Soteria Center for Women's Leadership Development located on the campus of St. Paul's University.
Haddad will join with 13 other leaders from around the world who have gathered to celebrate the opening of the first women's leadership center in Africa. The center contains 44 residential units and a three-story building for research, teaching, and development. St. Paul's partnered with Matthew 28 Ministries, Inc. in order to bring this new construction project to fruition.
Haddad's presence at this conference represents CBE's continuing mission to partner with organizations around the world to promote women in leadership. In November, Haddad will travel to California to speak at the Passion for Fullness in Christ "Renewing Gender Relations, Living out the Fullness in Christ" Conference. This conference will focus on the continued mission to pursue balanced gender relations around the world. She will then travel to Baltimore, Maryland to present on "Worldview and Gender: Ideas and Consequences" at the annual Evangelical Theological Society conference.
In its effort to advance a biblical foundation for gift-based rather than gender-based service, CBE sponsors annual conferences, facilitates local chapters, hosts an online book service, and publishes two award-winning journals. For more information, visit http://www.cbeinternational.org.