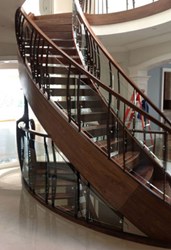 As it becomes more and more difficult in today's industry to find skilled trades-people, companies like R&A Stairs, whose craftsmanship have proven themselves, become invaluable gems. President, Desini Fine Homes Ltd.
Newmarket, Ontario (PRWEB) August 27, 2013
The elegance and sophistication of R&A Stairs, custom stair production and installation company in Newmarket, can be seen in the company's custom design and installations. And, the term "Timeless Quality Designs", is a recurring element in most R&A customer reviews.
Rick Albrecht, owner of R&A Stairs offers, "We now offer more rail, tread, nosing and post styles than ever before and wanted to a better way to display the new styles and photos of our installation on our website." Rick further adds, "As such, a new website was required, which we have just launched in early August amidst positive reviews from those who have visited our new site already."
Looking for a more elegant way to show their stair and rail components, Rick enlisted help from their original web design company, IFM Web Design Services, to improve on the existing site design with a new layout and gallery function to show the high-level of design and installations offered by R&A.
Creative Director Len Doren, of IFM, offers "Rick is a longstanding client of ours and when Rick and I first discussed redesigning the company website, I wanted to include a more elegant way to showcase the high-level of quality workmanship produced by R&A Stairs."
True to form, the gallery of custom stair installation photos shows the level of detail and elegance that is applied to each and every design and installation. And, each R&A project reflects the exacting design specifications required by each client.
R&A Stairs are not new to the industry as they have produced quality designs and installation since 1986. Adds Albrecht, "One thing that clients learn about us early on, is that we manufacture the stair and railing components right at our Newmarket facility, which allows us to monitor every aspect of the production process."
Since R&A Stairs inception in 1986, R&A has established itself as one of the premier custom stair and railing manufacturers in the Greater Toronto Area (GTA). With so many years of experience, R&A have the knowledge and expertise to ensure that each project reflects all the exacting design specifications required by each client.
R&A Stairs is located just north of Toronto, in Newmarket Ontario, and owner Rick Albrecht can be reached by phone at (905) 764-0435. Or, for more information, please visit the company website at http://www.randastairs.com