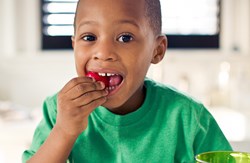 "We are always pleased to lend our support to like-minded charities, and ChopChopKids shares our vision and philosophy," Julian Omidi
(PRWEB) August 24, 2013
Children's Obesity Fund was founded by Julian Omidi and Dr. Michael Omidi to help combat the childhood obesity epidemic in the United States. Today they are very proud to support ChopChopKids, an amazing organization whose complementary mission is to give parents and children the tools to cook and eat together as healthy families.
"We are always pleased to lend our support to like-minded charities, and ChopChopKids shares our vision and philosophy," says Julian Omidi, cofounder of the Children's Obesity Fund. "They are a very innovative and effective organization, and we hope to continue our association far into the future."
ChopChopKids is the publisher of ChopChop magazine (http://www.chopchopmag.org), a publication for families interested in learning new and healthy recipes that children enjoy preparing and eating. The recipes are culturally diverse, economical, and healthy. Since its 2010 inception, ChopChop magazine has been requested by 50 percent of all United States pediatricians' offices for patient distribution.
ChopChopKids' vision for the eradication of childhood obesity is to reintroduce and emphasize family meals that contain food that is both healthy and fun. By encouraging children to develop an interest in nutrition and food preparation with their families, children will hopefully grow up with an appreciation for real food and a conscientious approach to their dietary habits.
Cofounded by Julian Omidi and Dr. Michael Omidi, the Children's Obesity Fund (http://www.childrensobesityfund.org) hopes to help reverse the trend of rising obesity rates in America. The goal of the non-profit charity is to help people fully understand the obesity issue and its dire impacts on individuals and society as a whole -- and to use that knowledge to encourage children to grow up strong and healthy. Children's Obesity Fund partners with other organizations to educate and support parents, educators and others so that we can all work together to raise healthy, active, social, and happy children. While the organization does not accept donations, it does encourage direct contributions of money and talents to the associations featured on our website. Children's Obesity Fund is on Facebook as well as Google+, Twitter, and Pinterest.