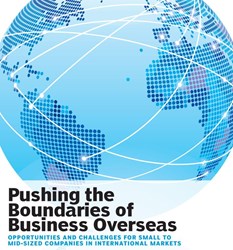 Companies are looking to minimize risks by developing a staged approach, ensuring an income stream before establishing a physical "footprint."
Boston, MA (PRWEB) August 27, 2013
When pursuing growth strategies abroad, many small to mid-sized U.S. businesses (SMBs) are taking a "revenue-first" approach, looking to generate new income streams while avoiding the risks of hiring.
That's one of the conclusions drawn from a recent study conducted by CFO Research in collaboration with High Street Partners, an international business software and services company. The full report, "Pushing the Boundaries of Business Overseas: Opportunities and Challenges for Small to Mid-Sized Companies in International Markets," is available for download at http://www.cfo.com/research.
The report is based on an online survey of 161 finance executives from small to mid-sized U.S. companies that either have experience in, or have an interest in pursuing, non-U.S. business. The research finds that international ventures are consuming a disproportionate amount of time for the finance functions at these companies, at least partially due to the unfamiliarity of foreign territories. "Don't take anything for granted. Don't assume things work like in the U.S.," declared one chief executive.
Companies are looking to minimize risks by developing a staged approach, ensuring an income stream before establishing a physical "footprint." A majority of respondents (60%) say that their companies currently do business in more than six countries, while less than half that number (28%) report having employees in as many locations.
Often, success in international expansion requires first building local networks to gather "data on the local market demand, and insight to the customs and culture of the industry," notes a CFO in the study.
Survey respondents confirm that in the international arena, ill-advised commitments make it "difficult to retrench," says a senior vice president of finance, as companies are subject to different sets of rules and regulations. In such cases, respondents stress, nurturing local expertise and drawing on resources with local knowledge can help avoid "learning the hard way," as one VP of Finance puts it.
Read more about the study in the upcoming September edition of CFO magazine available online at http://www.cfo.com or download the report at http://www.cfo.com/research.
For Further Information:
About CFO Research:
CFO Research (cfo.com/research) is the research group at CFO Publishing LLC, a portfolio company of Seguin Partners that is the leading business-to-business media brand focused on the information needs of senior finance executives. Delivering content through multiple channels including online, digital, mobile, and print, the business consists of CFO magazine, CFO.com, CFO Research, CFO Learning and CFO Conferences. CFO's award-winning editorial content and loyal, influential audience make it a valued resource for its readers as well as an effective marketing partner for a wide range of blue-chip companies. CFO has long-standing relationships with nearly a million finance executives.
About High Street Partners:
High Street Partners is a premier provider of international business software and services. Its mission is to help companies capitalize on their international growth opportunities by simplifying the management and control of international expansion and operations. HSP's signature solutions include HSP OverseasConnect®, cloud-based software for the aggregation and management of accounting, finance, HR and legal operations across multiple geographies and lifecycles. OverseasConnect complements HSP's operations-focused Managed Services and suite of custom Advisory Services. HSP provides a single point of accountability for customers spanning a range of industries and sizes: from those making their first overseas hire, to larger, publicly traded companies managing multiple subsidiaries on several continents, to top universities and research institutions operating in dozens of countries. HSP now has 15 global offices, including Annapolis, Boston, Dallas, New York, San Diego, Silicon Valley, Hong Kong, London, Munich, Shanghai, Singapore and Tokyo. For more information, call 1-888-881-6576 or visit http://www.hsp.com.