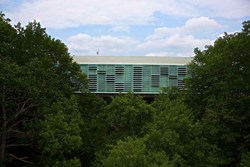 The building, which is more than 50 feet above the gorge, is home to the College's signature Music program.
Syracuse, NY (PRWEB) August 23, 2013
One of upstate New York's most unique structures has just opened on the campus of Onondaga Community College in Syracuse, NY. It's named "Academic II" and it spans the gorge which cuts through campus. The building, which is more than 50 feet above the gorge, is home to the College's signature Music program. Inside are a 150-seat recital hall, eight "smart" classrooms, soundproof practice rooms, and faculty offices.
"When a student comes in to audition, they'll be walking in to a building which puts us on par with other excellent music schools. We have great equipment, we have great faculty, we have great students, and now we have a great building," said Music Professor Rob Bridge, D.M.A.
Onondaga Community College broke ground on the innovative project on May 11, 2011. After two years of careful construction, the new building now connects two other buildings on either side of the gorge that runs through campus. The design of the suspended addition minimized site development costs, utilizes previously unusable property, and includes enhanced sustainable features to positively impact the campus environment. The building also provides an indoor crossing over the ravine, which was previously spanned only by an outdoor footbridge – a welcome addition for students crossing campus during the cold and blustery days of winter in Syracuse, NY.
Watch a video from the building's groundbreaking at Onondaga Community College.
An open house for the community will take place Saturday, Oct. 5, from 11 a.m. to 2 p.m. Attendees will be able to view the building and enjoy numerous performances by musicians.
About Onondaga Community College:
Onondaga Community College is Central New York's second largest undergraduate college with more than 12,000 students. Onondaga is a two-year college operating under the State University of New York (SUNY) system, and is locally sponsored by Onondaga County. Located on a bustling 280-acre campus atop Onondaga Hill, the community's college remains dedicated to serving the needs of students in ways that help them to explore, discover, and transform. Onondaga offers nearly 50 programs of study, bachelor and master's degrees available on campus through a regional higher education center, and more than 80 transfer agreements with four-year colleges and universities. A 2013 report on "The Economic Contributions of Onondaga Community College" shows student enjoy an attractive 14.4% rate of return on their educational investment and recover all costs in 11 years, while state and local governments see an annual rate of return of 7.8% on their support for Onondaga. The College is home to the seven-time NJCAA national champion men's lacrosse team and the two-time NJCAA national champion women's lacrosse team. The men's team won its fifth consecutive national title in 2013. The women last won the national title in 2012. Onondaga has fifteen intercollegiate men's and women's athletic teams.