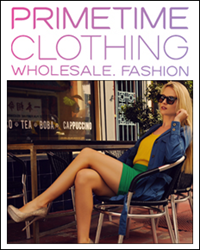 Los Angeles, CA (PRWEB) August 23, 2013
Prime Time Clothing, a leading provider of online wholesale fashion at discount prices for retailers everywhere, has just released their popular fall wholesale fashion trends. The latest arrivals include trendy tops, skirts, pants, dresses and accessories. As they continue to receive new products on a daily basis from the leading manufacturers in the area, retailers continually benefit.
Prime Time Clothing makes it easy for retailers and boutique shops to purchase the trendiest fall clothing for their stores online. With continual updates to their website, buyers can always trust that they are informed of the hottest trends on a daily basis. At any given time, the selection of new arrivals can total hundreds of items for buyers to purchase. Each item is offered in a variety of colors and sizes to ensure that each store is able to cater to their target audience's needs. Shopping online for the latest fall trends is an efficient and affordable way for fashion retailers to provide their customers with the hottest trends today.
Retailers that are looking for the latest fall wholesale fashion trends can save big at Prime Time Clothing. First-time customers are able to save 15 percent on their entire order off of the already discounted prices. In addition, any order over $300 for new and existing customers is free. For those orders that are under $300, shipping is simply a flat $9.95, in their continual attempt to keep their wholesale apparel affordable for stores of all sizes.
Buyers, retailers and boutiques all find it very simple to find exactly what they need on the Prime Time Clothing Website. Shopping by trend or latest sales is the easiest way to provide their customers with what they want.
Anyone that would like more information on the affordable wholesale fashion fall trends that Prime Time Clothing has to offer can visit http://www.primetimeclothing.com/.
About Prime Time Clothing: Prime Time Clothing has more than 25 years in the wholesale fashion industry and can be considered an expert when it comes to providing the latest fashion trends for women. It is their goal to provide their customers with the latest fashion trends and below wholesale prices to help stores provide their customers with the hottest items. They carry a multitude of items from formal dresses to casual pants and everything in between. They are a true one-stop wholesale clothing shop for retailers, boutiques and buyers everywhere.