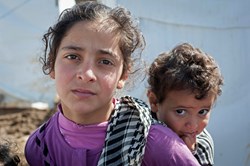 …thousands could go hungry within a few months…
Phoenix, Ariz. (PRWEB) August 23, 2013
As reports multiply on alleged chemical attacks in Syria, civilians continue to flee the conflict for protection. Food for the Hungry (FH) is serving displaced people—both inside and outside of Syria—by providing food, hygiene kits, blankets, trauma care and safe spaces for children to play. FH is responding in partnership with the Integral Alliance and working hand-in-hand with local churches and other networks.
"One of the greatest concerns is that thousands could go hungry within a few months due to food shortages," said Pete Howard, FH's Director of Emergency Response.
Lucas Shindeldecker, FH's Senior Food Security Program Officer, is currently on the ground in the region visiting multiple refugee settlements as part of FH's ongoing assessment and response.
"Needs in Lebanese settlements are manifold and include access to clean water, tent winterization and protection from seasonal flooding," Shindeldecker said. "In Jordan, most refugees are taken directly to Za'atari camp, but the majority only stay a short while. Refugees then leave camps and move into dwellings that have inadequate facilities and ever-increasing rents, causing Syrians to go further into debt."
FH is addressing shelter-related issues with rent support. Churches and local organizations that are acutely aware of the needs of the most vulnerable families are distributing rent support provided by FH and other Integral partners.
"The alleged chemical attacks further highlight the plight of a nation that is desperately suffering," said Howard. "With several million people inside and outside of the country fleeing violence, we must extend mercy to those who are in great need."
According to the UNHCR, more than 1.9 million people have fled the fighting in Syria and registered as refugees or applied for registration in neighboring countries. Two-thirds of these have arrived during 2013. Additionally, the Internal Displacement Monitoring Centre reports that 1.5 million are displaced within Syria. FH is working in Syria, Jordan and Lebanon. At this point, Jordan and Lebanon host the highest number of refugees (684,000 in Lebanon and 516,000 in Jordan).
Donations can be made to support FH's disaster response work at [fh.org/helpsyria.
###
Founded in 1971, Food for the Hungry provides emergency relief and long-term development programs with operations in more than 20 countries to help the world's most vulnerable people. Learn more by visiting http://www.fh.org. Social connections include http://www.facebook.com/foodforthehungry and http://www.twitter.com/food4thehungry/.