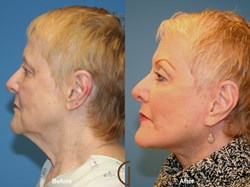 I am committed to using the best technology and most advanced surgical techniques available in order to give my patients superior results. My individualized approach and personable technique ensures that every patient receives natural-looking results
Newport Beach, CA (PRWEB) August 23, 2013
The pressure to look young, fit and energized continues to mount, which is leading more patients in Orange County to Dr. Kevin Sadati's cosmetic surgery practice. In recent months, Dr. Kevin Sadati has noticed that the neck lift procedure is becoming more popular among both male and female patients.
Newport Beach patients are finding that the neck lift complements the traditional facelift procedure as it tightens the muscles in the neck and removes any sagging skin from that region. The result is more harmonious when the two procedures are done in tandem with one another, rather than one or the other separately.
"The neck lift procedure is a simple surgery that has profound results. I recommend that all patients who are interested in the facelift procedure consider the option of adding the neck lift to the operation. Ultimately, most patients are more happy with their results when they include the additional procedure," explained Dr. Kevin Sadati.
The neck lift is especially effective for patients who are experiencing the first signs of aging, who are typically between the ages of 40 and 50 years old. At this point, lines and wrinkles are beginning to form on their faces while, at the same time, gravity takes its toll on their skin. A facelift procedure will rejuvenate their face, but a neck lift procedure will give them the completely youthful results that they are looking for from the operation.
As an expert facial plastic surgeon who has been servicing the Orange County area for more than a decade, Dr. Kevin Sadati is familiar with a wide variety of procedures, including the neck lift. He also is considered a rhinoplasty expert and has helped pioneer new facelift techniques such as the natural facelift. Patients who are interested in his practice often find the before and after gallery on his website to be a useful tool when doing their research. The face simulator helps them to get an idea of what their own personal results might look like after the operation.
"I am committed to using the best technology and most advanced surgical techniques available in order to give my patients superior results. My individualized approach and personable technique ensures that every patient receives natural-looking results," noted Dr. Kevin Sadati.
Patients who are interested in working with Dr. Kevin Sadati have the opportunity to set up a free cosmetic consultation. At this appointment, Dr. Kevin Sadati performs a complete physical and mental evaluation in order to confirm a patient's candidacy for any particular procedure, including the facelift and the neck lift. This is an opportunity for patients to discuss their goals and desires for the procedure, as well as discuss any questions and concerns with Dr. Kevin Sadati. Before the appointment is complete, Dr. Kevin Sadati will create a customized surgical plan for the patient and determine the best course of action.
To find out more information about the popularity of the neck lift procedure, contact Dr. Kevin Sadati's office today.