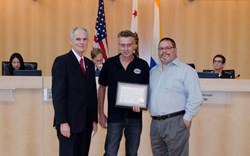 San Jose, CA (PRWEB) August 22, 2013
Suntactics has become a multiple award winning solar company, recently Suntactics has been awarded the Outstanding Green Small Business Award by the SCORE Foundation, sponsored by Office Depot. Suntactics has also received a Commendation Award from the City of San Jose Mayor Chuck Reed, calling Suntactics an "environmentally-friendly company" that has "revolutionizes the art of portable solar energy."
Suntactics is a San Jose, California-based company that manufactures small, yet uniquely powerful solar chargers in the U.S. The premium handheld solar chargers are capable of charging many types of smartphones, tablets, and other USB devices.
SCORE is a partnership foundation sponsored by Office Depot, they help small business owners to become prosperous and successful. The SCORE Awards ceremony was held on Thursday, August 15th in Dallas Texas where Suntactics was presented with the Outstanding Green Small Business Award. The week after, Suntactics was presented a Commendation Award from the City of San Jose on Tuesday, August 20th.
The back-to-back awards honoring Suntactics for creating small, yet uniquely powerful solar chargers for smartphones and tablets shoes the company is growing into one of the greatest environmentally friendly solar companies in California.
SCORE CEO Ken Yancey says, "SCORE is honored to serve small business clients that are pursuing environmentally friendly business initiatives and products. Green business practices are a sound investment in our country's future and Suntactics is certainly at the forefront of this movement, incorporating environmental awareness into every aspect of operations."
SCORE President Mark Dobosz says; "We are excited to recognize small businesses that are pushing the envelope of innovation and working to make our world a better place. Suntactics is a prime example of a stellar small business doing just that."