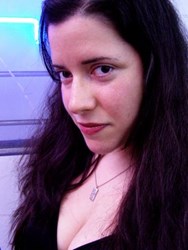 If you liked 50 Shades of Grey, then you'll fall in lust with Rachel Kramer Bussel's even hotter BDSM books, like Serving Him and Please, Sir.
—Cosmopolitan Magazine
(PRWEB) August 23, 2013
Rachel Kramer Bussel, prolific journalist, writer, author, and editor, penned a piece for Medium detailing the top five ways that technology can improve one's writing. With titles ranging from Serving Him, Only You, to The Big Book of Orgasms, nobody is better equipped to speak on smutty literature than Rachel. She even has a newly-released bestselling audio book entitled Gotta Have It, narrated by Rose Caraway. From Facebook to Google to Flickr, Rachel examines the oft-overlooked sources of salacious content that are only a click away; Wikipedia can provide "a seemingly endless series of links to topics you've very likely never heard of."
Similarly, Rachel says that social media is an abundant source of creative story ideas. She points out that "with a bit of creativity, you can take almost anything and refashion it in your own way." With so many resources at authors' fingertips, writers need never suffer writer's block again.
Learn more about writing from Rachel Kramer Bussel in person:
September 25, Reading at Vica Miller Literary Salon, New York City
September 27, Erotica 101 Workshop with Tool Shed Toys, Milwaukee
What people are saying about Rachel Kramer Bussel:
If you liked 50 Shades of Grey, then you'll fall in lust with Rachel Kramer Bussel's even hotter BDSM books, like Serving Him and Please, Sir.
—Cosmopolitan Magazine
Rachel Kramer Bussel edited a column for New York Magazine and hosts SRO readings around the country. Rachel formerly wrote the "Lusty Lady" column for The Village Voice and was the longtime senior editor of Penthouse Variations. She is a prolific erotica editor, and her titles include Serving Him, The Big Book of Orgasms, Twice the Pleasure, and Best Bondage Erotica 2013. Visit her at rachelkramerbussel.com.