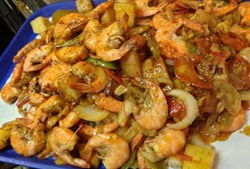 "It is awesome to see the huge turnout. We try and turn out healthy, great tasting food every day and its great to see people appreciate how fun the market experience really is," said Mike Ungaro, San Pedro Fish Market and Restaurant
San Pedro, CA (PRWEB) August 23, 2013
San Pedro Fish Market, proving it has one of the most interactive fan bases in the Los Angeles restaurant scene, announced today that it had received its 100,000 check in on Facebook, an amazing total given that the Market has not actively sought check ins.
Routinely attracting over 10,000 diners each week, the Market and restaurant have been providing high quality seafood cooked on the spot in combination with vegetables and proprietary spices in an open air environment for more than four decades.
"Our family works hard and it is obviously appreciated by our friends and fans in social media," said Mike Ungaro, Vice-President of San Pedro Fish Market. "It is awesome to see the huge turnout. We try and turn out a healthy, great tasting product every day and its great to see people appreciate how fun the market experience really is."
Starting in 1957, the family-owned and operated Fish Market and Restaurant has expanded to include seating for 2,000 and is standing room only with a line out the door on most weekends. Generating a highly sought after review of 4 of 5 stars through over 200 reviews on Yelp, along with coverage that has ranged from the Food Network to specialty media, San Pedro's works extremely hard to help every diner pick from the freshest seafood and vegetables available, take a seat in the sunshine, and prepare an incredible tray meal on outdoor grills using great seasonings an incredible meal large enough for an entire family.
"We have been able to build a bond of trust and commitment with our fans because they have fun at the Market, picking the fish, listening to the live music, soaking up the sunshine," continued Ungaro. "Our frozen offerings in stores across the country show that our products offer a great, high quality, fun to eat product, and the interactions on social media tell us that every day."
For more information on San Pedro Fish Market and Restaurant go to their Facebook page at http://ow.ly/ob0xa.
ABOUT SAN PEDRO FISH MARKET & RESTAURANT
Founded in 1957, San Pedro Fish Market & Restaurant has grown into a top rated destination on the LA waterfront whose seafood, Lonely Planet described by saying, "Seafood feasts don't get any more decadent than at this family-run harbor-view institution." Routinely serving more than 10,000 diners each week, San Pedro Fish Market is also one of the most recognized brands in the frozen food section of premium and mass market supermarkets across the Southwest and Hawaii selling in four microwavable versions of our world famous shrimp tray. Just as at the restaurant and market, all ingredients are the freshest available and meant to be prepared and enjoyed directly in the kitchen with your favorite ice cold beverage. For more information, go to our website at http://ow.ly/obvmS.