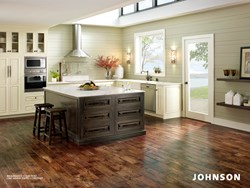 "We decided to add a dealer locator because it is a significant step in the flooring purchase decision-making process," says Billy Ko, CIO
City of Industry, CA (PRWEB) August 29, 2013
Johnson Hardwood is inviting hardwood flooring customers to visit their new website (http://www.johnsonhardwood.com) that features more product information than ever before making it convenient for customers to discover a variety of product attributes. Product information that visitors can expect to discover would be wood species variations and tips to consider when performing hardwood-flooring research, and should be a part of a flooring customer's checklist before committing to a floor. Additional information also includes the many product amenities to consider and why including finish, length, width, and style. The new site is completely user-friendly giving website visitors the ability to search by desired construction, color tone, and texture. Visitors are also able to search for their local flooring showrooms that carry Johnson Hardwood products by using the dealer locator, and can download the Johnson Hardwood product catalog to take with them to point out the floor they are considering.
"The new Johnson Hardwood website was built with flooring customers in mind. All the information needed to perform research on hardwood flooring products and determine what product is right for a home is provided on the new website," says CIO Billy Ko. "Ease of use and the ability to navigate through the website was the most important part of the new website layout. We decided to add a dealer locator because it is a significant step in the flooring purchase decision-making process. Viewing samples in the appropriate lighting and experiencing grain patterns and color variations is a major part of what the consumer should understand before purchasing. For this reason, Johnson Hardwood does not condone Internet sales. We try to be very strict about this. You're really taking your chances when buying hardwood flooring over the Internet. Customers should consider one main fact; each computer monitor picks up color differently. This being a main consideration when choosing a floor to match your interior, another consideration should always be customer care and installation referral that a flooring dealer can only provide during an in-store consultation."
Discover new products and more information on the Johnson Hardwood website at http://www.JohnsonHardwood.com.
About Johnson Hardwood
Johnson Hardwood is one of the leading manufacturers of premium hardwood flooring with distribution to the United States and Canada. We produce on-trend, high-demand flooring options by sourcing durable hardwood species from around the globe. Our products are recognized for their affordability and superior quality. Plus, we offer the highest standard of worry-free floors in the industry being CARB II and Lacey Act compliant. Each flooring plank is precision milled, hand crafted, and hand stained to produce an exquisite product. Johnson Hardwood floors are manufactured with the greatest care and backed by a warranty that assures complete satisfaction.