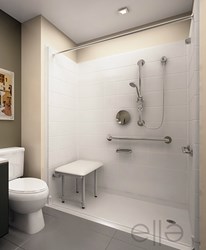 This Labor Day sales event is one of our biggest promotions of the year with big savings!
Miami, FL (PRWEB) August 22, 2013
A quality handicap bathtub and shower company, Aging Safely Baths announces a pre Labor Day sales event. For this special promotion, the company will offer shoppers substantial savings on many of the most popular handicapped accessible shower or bathtub appliances.
According to Aging Safely, several of the most popular brands and models of low threshold handicap showers and step in bathtubs will be marked down up to 30%. In addition, there will be deep discounts on overstock and walk in tubs with minor cosmetic imperfections. Customers that are looking for a wide variety of options for their aging in place bathroom will appreciate these premium handicap accessible bathing appliances; which are crafted of quality fiberglass, coated in acrylic, or a triple gel coat manufacturing process.
A wheelchair access shower or a low step in hydrotherapy tub might be the right solution for a senior citizen or someone with a disability who's considering options to increase accessibility while bathing. Ease of use is essential for people that want to bathe independently, especially in regards to the handicapped or the elderly. Getting in and out of the shower or bathtub can potentially be difficult and frightening for some people when using a traditional bathing appliance. The low threshold units allow the bather to step in without having to raise their legs as much to enter.
The company also offers a wide variety of several of the best transfer baths. These unique tubs are designed for people who have limited to no use of lower extremities. They may be the perfect appliance for care takers and those that are caring for loved ones who aren't independent. These specialty wheelchair access bathtubs can also be used in conjunction with a disability lift or hoist to assist a bather in and out of the tub. Furthermore, thermal mixing valves, more commonly known as an anti-scalding device can easily be installed into most applications. This optional feature can help regulate the temperature of the water entering the bath with minimal adjustments required from the bather.
Bath pillow seat riser cushions are another popular option for clients who prefer a softer seat to sit in while bathing. A special mounting system helps hold the cushion into place securely. Customers can also choose the height of the pad and have theirs custom ordered per the particular needs. The cushions have a wide range of compaction sizes to select from. The materials used are top quality and can be easily removed and cleaned.
Commercial facilities and residential customers alike qualify for the Labor Day sales event specials and can order appliances without a delivery charge to locations within the continental U.S. Nursing homes, builders, assisted living facilities, hospitals and care centers also receive extra price incentives when ordering in bulk. The company also provides a wide selection of handicap shower parts and accessories for walk in tubs that are universal. Those interested in more detailed information and pricing are encouraged to visit http://www.agingsafelybaths.com. The company has a perfect rating with the Better Business Bureau and has an exceptional customer service department that can answer questions regarding the walk in tub and wheelchair access appliances and installation requirements.
Contact Information:
Zach Wennstedt
1-888-779-BATH(2284)
info(at)Agingsafelybaths(dot)com