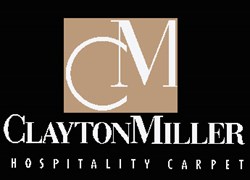 "We have put alot of work into getting this app ready for the public to use and we know it will be a hit with designers!" - Lacy Price, Marketing Coordinator for Clayton Miller Hospitality Carpets.
Dalton, GA (PRWEB) August 27, 2013
Clayton Miller Hospitality Carpets launches their new and improved ipad application. CM's sales representatives have been using this application exclusively to test and present the company's custom carpet patterns to their clients.
The new application is an extension of CM's online studio that allows designers to rework patterns in different color combinations and flood them into simulated room scenes. Having the new app on the Apple store will allow designers to also download the app to modify and visualize the scale of the over 650 patterns that are on their online studio. This application is a free download that is also available for iPhone use.
Clayton Miller Hospitality specializes in high-end 4 and 5 star custom designed hospitality carpets for the hotel and resort industry. CM manufacturers guestroom and public space carpet using various constructions such as CYP, Infinity, and Colortech.