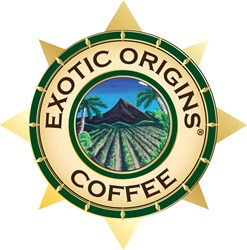 Irvine, California (PRWEB) August 29, 2013
Exotic Origins Coffee is on a mission: "To make a difference from origin to America's cup," explains Scott Plail, Founder & CEO, "We began in origin over a year ago, tracing and sourcing extraordinary, rare 88 point and above coffees from around the world. We are passionate about our exceptional coffees, our customers, the farmers, and doing our part to help others."
Charitable Giving Foundation offers consumers a unique online shopping environment with well-known online sites including Amazon.com. The merchants donate a portion of their sales back to the organizations' charitable causes.
"Due to Exotic Origins Coffee commitment to sustainable coffee quality and relationships with their farmers, roasting protocols, category uniqueness and philanthropic intentions, our partnership is a perfect fit for the organization." says John T. Carr, Founder & CEO of Charitable Giving Foundation established in 1974. "We were the first cause-marketing site in America, together with Exotic Origins Coffee we intend to make a difference in people's lives."
Exotic Origins journey to excellence covered over 150,000 miles of travel in often dangerous terrains in order to uncover the company's first harvests from Ethiopia, Central and South America. The coffee expeditions were led by Willem Boot, internationally renowned coffee expert and VP Global Procurement.
Exotic Origins Coffee is available for purchase at http://www.exoticoriginscoffee.com and through http://www.charitablegivingfoundation.org .