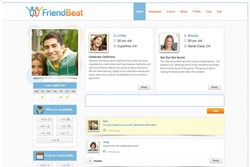 WOW, I believe that this could be the next big online sensation. Sign up and take advantage of this new phenomenon on the internet – you might lose the chance of making internet history with this new concept - the-interpreneur.com
Los Angeles, CA (PRWEB) August 23, 2013
FriendBeat.com, the website suggesting fresh approach to finding new friends, is pleased to announce an updated version of all existing features.
The new aspects of the website include revised and improved communication channels such as groups, private messages, events and an availability calendar. These enhanced features allow users to gain the maximum benefits of connecting with new friends that live in the same geographical vicinity and also help to foster social integration at the community level.
The improved features offered by FriendBeat.com work hand in hand to help users successfully socialize both online and offline," says Jane Zazvonova, Creative Director of the company.
"The possibilities are endless once users begin to explore the multiple features offered by FriendBeat. Our tools open broad opportunities even beyond finding new friends. Our users have a chance to meet special someone in a comfortable space without embarrassment of online dating."
One of the most interesting features on the website is called Beats. This application allows users to target people that live in close geographical proximity by sharing information about themselves and their hobbies. This helps users to step out of the virtual world into real life connections.
The Group feature encourages one to one as well as collective interactions. Users are provided with the tools to form groups composed of two or more people that share common interests. Identifying and sharing personal passions enable users to connect easily and provides a fun and effective way to form the basis of a potential friendship. Group activities could range from working out at the gym to meeting up for a cup of coffee.
Users can also plan Events so group members have the opportunity to meet face to face, while exploring similar interests and having fun at the same time. Some activities are simply more fun when individuals have someone to share them with.
FriendBeat.com acknowledges that in today's fast-paced society it is easy for people to get caught up in the conundrum of everyday life and lose track of the little things that really matter. Therefore, Availability Calendar allows users to instantly connect by highlighting the specific days that they are available to meet other people.
"FriendBeat's revised features promote a platform that fosters enhanced communication," stated Dmitry Lumpov, founder and CEO of FriendBeat.com. "This gives users the opportunity to connect directly with people in their communities who share common interests and a desire to form authentic connections."
FriendBeat.com is currently available to users throughout the United States so to start building new friendships or to find out more information about FriendBeat please visit http://www.friendbeat.com.
About FriendBeat
FriendBeat.com, based in Los Angeles, California is an online social channel that highlights the importance of real interaction between people and offers a concentrated approach to developing friendships by facilitating offline meetings with those who live in close geographical proximity to each other.