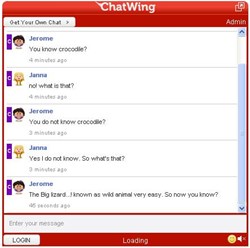 Cambridge, MA (PRWEB) August 23, 2013
Chatwing.com and its team of developers are thinking of launching a multitude of coin giveaways in various online communities and forums. For users to qualify in the coin giveaways, they must have official Chatwing accounts and functional chat apps. The purpose of these giveaways is to increase the awareness of people in using Chatwing's chat software.
Chatwing's virtual coin system has been introduced two months ago. Through these coins, registered users can avail different premium services. These services include custom logo upload, which is essential for a company's branding initiative. Custom subheader is also allowed, thus increasing the exposure of a product. Each of the premium services costs 1 coin per month.
"It is a versatile system. Users can select the features they want and they can have a predetermined set of time." Mike Diamond—a Chatwing developer—said. "They can terminate the services any time they want, and they can avail them again."
"We may be giving 5 or 10 virtual coins to lucky winners. Once we have integrated these coins to their accounts, they can now start customizing their chatting experience. We can do this through forum contests, so we advise users to stay updated." Mr. Diamond added.
About Chatwing.com
Chatwing.com specializes in the new field of website chat. Over years, the Chatwing team has introduced live chat widget for hundreds and thousands of blogs. The Chatwing application bridges people from many parts of the world, creating global synergy through the Internet. The shout box can be installed in just seconds, and it can be used for varying purposes such as leisure and Internet marketing. It also allows a user to customize the size, color, and name of the widget. Chatwing is 100% free for everyone