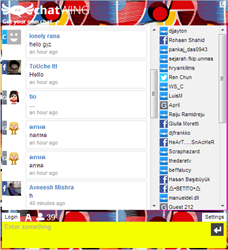 New York, NY (PRWEB) August 24, 2013
Chatwing's developers have recently announced the top mobile apps being discussed in their new chat software. These apps are popular and also the common sources of interaction among different users. The developers have highlighted the key mobile apps being discussed in the chat box.

Pou- This is a popular Android game that has been hitting the communities lately. In Chatwing chat boxes, web users share their Pou pets, along with costumes other modifications.
Minion Run – Based from the popular minions of Despicable Me, Minion Run is a game that has the same platform with Temple Run. Chatwing chat software developers have noted that their users often share high scores with each other, along with gaming screenshots.
Beautiful Widgets – This utility app is meant for people who want to make their mobile desktops beautiful and accessible. Chatwing chat app users often share their desktop screenshots with each other, as well as tips on using the application.
Pocket – Considered as an innovative article reader, Pocket has been downloaded millions of times already. In Chatwing chatroom, Pocket users share their articles with each other, and they also exchange ideas regarding current events.
Operating on a strict strategy, Chatwing.com and its team of developers are vigilant regarding upcoming apps and trends. The developers will also introduce new features that will be available for users in the coming months.
About Chatwing.com
Chatwing.com specializes in the new field of live website chat software. Over years, the Chatwing team has introduced live chat widget for hundreds and thousands of blogs. The Chatwing application bridges people from many parts of the world, creating global synergy through the Internet. The shout box can be installed in just seconds, and it can be used for varying purposes such as leisure and Internet marketing. It also allows a user to customize the size, color, and name of the widget.