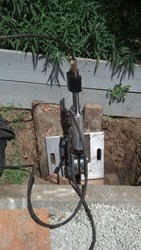 We are excited to meet with Drainchem and learn about Australasia's future trenchless needs.
(PRWEB) August 31, 2013
TRIC Tools' Gregg Abbott and Michael Lien are set to travel "down under" to Sydney, Australia. TRIC is thrilled to bring its cutting edge pipe bursting technology to Australia's waters edge. The Sydney Convention and Exhibition Centre will be an exciting venue for the 31st International Society Trenchless Technology (ISTT) Show. In addition, the Australasian Society of Trenchless Technology (ASTT) will be celebrating its 10th National Conference & Exhibition as it hosts this year's event. The event takes place September 2nd through September 4th. Some of the featured Speakers are future ISTT Chairman, Derek Choi, Sydney Water's General Manager of Liveable City Solutions, Paul Freeman, and Past ASTT and ISTT Chairman, Menno Henneveld.
While there, TRIC's aim is to build a trenchless bridge with its local distributor, Drainchem, Ltd. Drainchem became TRIC's Australian Pipe Bursting Distributor in 2012. Gregg Abbott, Director of Sales and Michael Lien, TRIC's Director of Operations will meet with Michael Smith near Melbourne shortly before the ISTT event. "We are excited to meet with Drainchem and learn about Australasia's future trenchless needs," said TRIC's Abbott. "Several prospects have flown to the States in recent years and we look forward to re-engage with them in Sydney, " Abbott continued. TRIC's X and M Series pipe bursting equipment has been used on several gas, sewer and water projects in Australia over the past six years. For more information about the show, go register at nodigdownunder.com.au.
TRIC continues to develop its technology to the needs of the industry. At the show, TRIC will be in Booth 11 demonstrating its X30 Lateral Bursting tools. TRIC's 'X' and 'M' Series pipe bursting equipment combine a compact footprint and at the same time harnesses enough power to burst 3/4" to 12" Mainlines in an attractive package. TRIC recently sold its trenchless technology to their dealers in India and Europe and signed another distributor in the Middle East.
For more information about Trenchless Pipe Bursting equipment or the Trenchless Industry in general - please call 888-883-8742 or visit TRIC's website at: http://www.trictrenchless.com to see how they can answer any of these questions for you. Get your Trenchless Sewer and Water Replacement service off on the right foot, one lateral at a time.