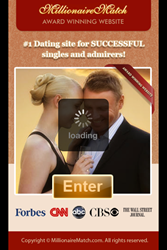 Los Angeles, California (PRWEB) August 25, 2013
MillionaireMatch.com, a dating site for wealthy individuals, is currently working on the development of a mobile application for iPhone and iPad users. This application will allow members of the site to conveniently access the information they need to meet and date, or even just make friends with, other members of MillionaireMatch.
Everyone knows how busy wealthy individuals generally are and how scarce free time is for them. MillionaireMatch is making it even easier for members to find each other and start their search for the perfect match by launching their new mobile app.
We now live in a world where more people access Internet services such as dating sites on their smartphone or tablet than on their desktop computer. This is one of the reasons MillionaireMatch has chosen to develop a user friendly mobile application. Regardless of how much experience a particular user has with mobile applications, this one will be one they can learn how to use right away.
With a history spanning more than 12 years, MillionaireMatch.com is an award winning dating service for the wealthy individual who may have trouble meeting someone they can have a genuine and loving romantic relationship with. Many wealthy people struggle to find a partner that can relate to them and the lifestyle they are accustomed to.
Once MillionaireMatch has released their IOS mobile application they will be working hard to create the same application to be used on Android devices.