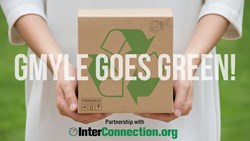 Making things as simple as possible for our customers was a must.
(PRWEB) August 26, 2013
Today, through GMYLE's new partnership with InterConnection, GMYLE gives its consumers unparalleled power to do the right thing by the earth. Now GMYLE consumers will not only be able to recycle their old electronics and devices free of charge, but also be able to do so with their old cases and accessories, something that had not been possible until now.
A company that historically provides outstanding products, GMYLE hopes to do something outstanding for the environment. The partnership between the electronics accessories and gadgets brand, and InterConnection, a leading nonprofit technology reuse and recycling organization, marks the first time that InterConnection will pay for the shipping of electronics accessories such as cases, speakers, and keyboards from anywhere in the US to their headquarters in Seattle. This means that all GMYLE consumers have to do is print out a shipping label found here, and mail their package for free. Providing a free and greener alternative to hauling used equipment to the dump where its future remains unclear.
This move towards a greener future is of the utmost importance to GMYLE. Over 20 million metric tons of electronics waste is disposed worldwide every year, piling up in toxic dumps around the world. And while GMYLE cannot guarantee the final resting place for its products, it wanted to ensure that consumers have the knowledge and power to make the right decision. "Making things as simple as possible for our customers was a must," GMYLE Marketing Director James Tyler said. "Finding a solution that people would actually use, and that had the greatest potential to increase the life of our products was key, and that's where InterConnection came in." Looking to the future, GMYLE hopes to make other advances in environmental protection.
As a certified responsible recycler (R2), InterConnection guarantees that the products are properly handled. This involves data destruction of all the devices sent in, and assurances that not only InterConnection, but also any downstream vendors will appropriately and legally redistribute the electronics and peripherals.
To learn more about this program and how to properly handle used electronics please visit http://www.GMYLE.com/InterConnectionPartnership
About GMYLE
GMYLE (Gadgets Make Your Life Easier) is a gadgets and electronics accessories brand founded in 2005. The company is a trusted name in developing MacBook and smartphone cases, Bluetooth Keyboards, QI Wireless Chargers, and many other products that enhance consumers' lives. Its target is to provide exceptionally high quality products for economical prices. It carries gadgets that are stylish, practical, and easy to use. For more information, please visit http://www.GMYLE.com.
About InterConnection
InterConnection is a 501(c) 3 nonprofit organization that makes information and communication technology accessible to underserved communities around the world by providing high quality refurbished computers to nonprofits and NGOs. InterConnection is focused on reuse instead of recycling, committed to the highest standards for clean, green computer recycling and disposing of parts and peripherals. For more information, please visit http://www.InterConnection.org.
Media Contact
James Tyler
Executive Marketing Director | GMYLE
marketing(at)gmyle(dot)com