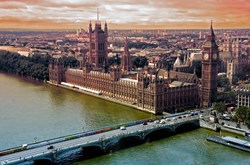 (PRWEB) August 25, 2013
London is a massive tourist destination located along the River Thames and divided into two districts. It is globally known that London is famous for its rainfall. The city is mostly visited during Autumn and Spring when the weather is just average.
There are many attractions for almost everyone in the city. People may be attracted to its World Heritage sites and visit the Tower of London, Westminster Abbey, Palace of Westminster, Kew Gardens and Greenwich.
Also the London Eye, Tower Bridge, St. Paul's Cathedral, Buckingham Palace, Trafalgar Square and Piccadilly Circus are some of the most-visited landmarks. People who are fond of museums and art also visit some of the most famous museums here such as the British Museum, Tate Modern, National Gallery and British Library.
People prefer to stay in city hotels in London to catch up with the city life. It is recommended that people should book their hotels in advance to get better prices and better accommodation. CEO of otel.com, Metin Altun spoke about the discounts they have made with hotels in London; "London is a great city with countless things to do; so there are millions of people flocking here every year. We decided to make a good deal on London hotels during this month. So we have now special rates on many hotels. Even, some luxury hotels became cheap London hotels with our discount package."
Metin Altun mentions the two top hotels in London. Rockwell Hotel is the first one. It is a boutique hotel where one can enjoy the modern English cuisine and exclusive room style. It is quite close to many attractions and also to the metro station. Some public areas of the building still have their original features. The wrought-iron banisters and Victorian mosaic floor in the lobby area have been restored. The Comfort Inn Vauxhall Hotel is the second one. It is on the South Bank of the Thames River, outside the London Congestion Charge Zone. The guest rooms feature modern design with private bathroom.
About Otel.com
Providing B2B and B2C solutions to its customers, Otel.com is one of the first global travel website in the world. With many offices in Europe and U.S and 7/24 call-center, their system offers more than 21 languages and currencies for all their visitors around the world.