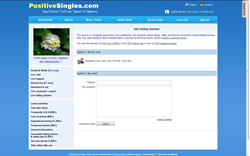 Los Angeles, CA (PRWEB) August 25, 2013
PositiveSingles.com is a completely anonymous and most trusted online dating site for people living with Herpes, HPV, HIV and other STDs all around the world.
PositiveSingles.com has been devoted to helping people living with STDs find love and support since 2001.
The website offers all kinds of information and support, and some of the issues it provide support for are given below:

Dating is daunting at times, more so when singles are positive so PositiveSingles has a section on first date ideas
Forum and blog – PS run a blog and forum where members can share experiences and knowledge and just get to know each other in a safe and friendly environment
A comprehensive list of over 800 locations where members can receive STD care and support
A section on Inspirational and treatment stories
Qualified counselor/expert who can advise on STDs, dating, emotional and psychological issues
STD legal information
STD testing center
As people can see PositiveSingles.com is unlike any other dating site. PositiveSingles provides an anonymous and safe environment for meeting people who are in the same situation. PositiveSingles goes well beyond that to provide members with support and information to take care of their physical, psychological and emotional health. It provides online dating advice, dating tips for positive singles and it has just launched a new service, the Live Dating Advisor.
What is the Live Dating Advisor?
The live dating advisor is a newly launched service which will enhance the experience of all the people who use the site. This service was developed in recognition of the need of their members to discuss personal issues with someone in real time. Below will be found the features of this new service and other related information:
Members can chat with a Dating Advisor in real time
Members can discuss questions about dating, safety and emotional or psychological issues
The service is available Monday to Thursday from 0600hrs to 0800hrs
Members can still send questions to the counselor in addition to this new service
PositiveSingles hopes this new Live Dating Advisor service will complement all the other good services it provides and that members will find that special person to share life with.