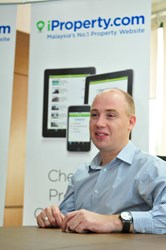 Attracting close to 30,000 respondents, 13,145 respondents from Malaysia, the survey revealed consumer's motivations, intentions and preferences in acquiring property in Asia.
(PRWEB) August 23, 2013
The iProperty.com Asia Property Market Sentiment Report 2013 for the second half of the year revealed that first time home buyers are concerned about not being able to own a property due to rising house prices.
The survey, conducted across the iProperty Group's leading network of property websites in Malaysia (iproperty.com.my), Indonesia (Rumah123.com and rumahdanproperti.com), Hong Kong (GoHome.com.hk) and Singapore (iproperty.com.sg) served as a bellwether to gauge the opinions consumers in the region.
Attracting close to 30,000 respondents, 13,145 respondents from Malaysia, the survey revealed consumer's motivations, intentions and preferences in acquiring property in Asia.
Key Findings in Malaysia:

Majority of survey respondents were aged between 26 to 35 years old (50%), revealing that young Malaysians are looking at various investment options, including property.
29% of respondents are first time home buyers looking to purchase property that is valued from RM 350,000 to RM 500,000.
Compared to the other countries, Malaysians reported the second lowest annual household income of between USD 24,000 to USD 50,000. Respondents in Indonesia had the lowest income level of less than USD$10,000.
78% of respondents are from the Klang Valley (Kuala Lumpur, Selangor, Putrajaya) and it remains an attractive investment destination for 80% of respondents.
84% of respondents want to buy property that is newly developed and they obtain information on new developments online (53%). 58% of respondents want to purchase property with the next 6 to 12 months from now, with the main motivation being the desire to own their own home (44%) and for rental income (40%).
Compared to findings in H1, the top three factors of consideration when purchasing property was Location, Price and Size. In H2, its Price, Location and Security. Location and price are interlinked as always, and with increasing crime reports on social media, it is inevitable that respondents are putting security as one of the key considerations.
Respondents still want more laws and regulations to protect property buyers in the country.
Top three hotspots in Klang Valley – Petaling Jaya, Ara Damansara and Puchong and Shah Alam and Outside of Selangor, the hotspots were – Iskandar Malaysia, Georgetown and Nusajaya.
Speaking at the launch of the fourth iProperty.com Asia Property Market Sentiment (H2) 2013 survey findings launch, iProperty Group's Chief Executive Officer, Shaun Di Gregorio said that the wait-and-observe stance that Malaysians took in the first half of the year is slowly dissipating.
"Prior to the 13th General Elections, the survey findings revealed that property buyers were treading carefully and was waiting to see the outcome of the elections before deciding on purchasing a property."
The Findings
The online survey polled over 13,000 respondents, mainly from the Klang Valley (78%), Northern Malaysia (10%), Southern Malaysia (8%) and East Malaysia (4%). 50% of respondents were aged between the ages of 26 – 35 with a quarter of respondents reporting an annual income of RM80,001 to RM160,000. More than half of respondents were from the low and middle income group.
In stating their intentions to purchase property, 80% revealed that they were keen in purchasing property that is newly developed (84%) and the preferred area of choice was the Klang Valley (80%), which suggests that respondents target locations that they are familiar with. 32% had a budget of up to RM350,000 and 64% had a budget from RM 350,001 to RM1 million. Only 4% had a budget of RM 1 million to RM 5 million.
"It's not surprising that Malaysians were interested in purchasing newly developed property as developers would bear the interest for the loan during the construction period under the Developer Interest Bearing Scheme (DIBS). The scheme made it easier for property buyers and investors to purchase property as they didn't have to worry about the loan till the property is fully developed," said Di Gregorio.
He added that in June, Bank Negara Malaysia (BNM) was studying the risks arising from the scheme, with a view of potentially imposing curbs on it, but it didn't come true. However, in July, BNM announced a set of new lending regulations, significantly involving the establishment of a maximum loan period of 35 years for home loans offered within Malaysia. According to data from BNM, Malaysia was at a worrisome 140% debt-to-income ratio, with 56% of the debt being property loans (46.8% for residential properties, and 9.2% for non-residential properties).
In a separate short survey done by the company after the move was announced, which attracted close to 400 respondents, 58% said that the move will make it difficult for people to purchase a property, while 22% felt that the move will curb household debts.
Sentiments on the Property Market – Affordability and Increasing Property Prices Are Still a Main Concern
77% of respondents are concerned about the affordability and rising house prices, a jump from 69% in the last survey findings. Only 10% are concerned with home financing policies and current interest rates.
Most respondents feel that property transactions will not pick up (42%) in the next 6 months. However, in a rather contradictory fashion, 41% of respondents answered that the current economic and political climate is conductive for property investment. With the highly awaited General Elections over, more than a third (37%) was unsure how the property market will pan out for the rest of 2013.
On the scale of affordability, 1 being very affordable and 10 not affordable at all, respondents rated a 7.15. As such, it was not surprising that the top three policies that respondents are calling for are better home financing policies and interest rates (76%), better protection for property buyers and investors (60%) and stricter penalties on errant developers (43%).
"Malaysians continue to view affordability and rising house prices as a major concern. It's becoming harder for the younger generation to own a property with the prices on an upward spiral. Respondents also feel that there will be an overall increase in prices across the board, ranging from commercial to residential properties, despite the introduction of My First Home Scheme and PR1MA," said Di Gregorio.
Outlook for H2 2013
The general election (GE) in May provided greater market certainties, leading to an upturn in real estate investments in Malaysia in Q2. On the international front, Malaysia has become a preferred country for foreign property investors, especially after Hong Kong and Singapore imposed 15% levies to slow down foreign investments that had overheated their property markets.
This was evidenced by the fact that 59% of Singaporean respondents expressing interest in investing in Iskandar Malaysia with 76% intending to buy for investment purposes.
The full survey findings can be downloaded directly from http://www.iproperty.com.my.
About iProperty Group Limited (http://www.iproperty-group.com)
Listed on the Australian Securities Exchange, the iProperty Group (ASX:IPP) owns and operates Asia's No.1 network of property websites under the iProperty.com umbrella brand.
Headquartered in Kuala Lumpur, Malaysia, the Company is focused on developing and operating leading property portals with other complementary offerings in Asian markets. It currently operates market leading property portals in Malaysia, Hong Kong, Macau, Indonesia and Singapore, and has investments in India and Philippines. With further expansion planned, the iProperty Group is continuously working to capitalise on its market-leading positions and the rapidly growing online property advertising market throughout the region.
Along with 18 property websites across the region, the Group's portfolio also includes the first comprehensive regional commercial property website, CommercialAsia.com, as well as a regional property exhibition business and monthly property magazines in Malaysia and Indonesia.
iProperty Group Network of websites:

Malaysia: iProperty.com.my
Indonesia: rumah123.com and rumahdanproperti.com
Hong Kong: GoHome.com.hk
Macau: vProperty.com
Singapore: iProperty.com.sg
Commercial: CommercialAsia.com
India: in.iProperty.com
Philippines: iProperty.com.ph
Events: expo.iproperty.com
Luxury: iLuxuryasia.com